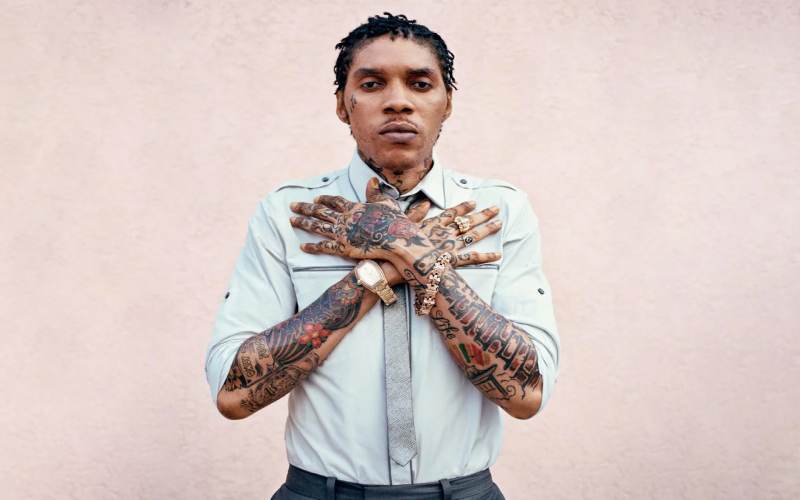 Jamaican reggae-dancehall musician Adidja Azim Palmer, better known as Vybz Kartel, has refuted allegations that he struck a deal with authorities to have his sentence reduced. Kartel is accused of being a police informant, but he is insisting that he is a victim of slander.
Taking to Instagram, Kartel maintained that he is not a friend to police officers. The response was triggered by an article on a Jamaican Publication, Jamaica Observer, written six years ago. The article which quoted a high-ranking police officer, claimed that Kartel cooperated with police in a bid to gain his freedom or a reduced sentence.
In the since-deleted post on Instagram, the music star claimed that the publication is using his name to gain popularity. "First of all dis an old article," he wrote. "2nd dem bowaz bwoy de know who mi is. So A mus public dem a try impress…. #clans #1dons #wellpowerful #suckumudababylon." He wrote.
In the said article, Kartel allegedly provided information to the authorities about the whereabouts of several wanted men in Portmore, St. Catherine- Jamaica. According to the report, Kartel's statement led to the recovery of 17 illegal firearms and the subsequent arrest of several wanted men.
Kartel is currently serving life imprisonment for the murder of Clive' Lizard' Williams, who police say was beaten to death at a house in Havendale, St Andrew, on August 16, 2011. The deejay will be eligible for parole in 2046.
The allegations come barely a month after the dancehall mogul released a lengthy statement outlining his achievements, influence and contributions to the music genre. The Half-Way Tree singer and deejay sought to silence critics by highlighting his fetes as a solo artist and entrepreneur in the music business.
In a career spanning 20 years, Kartel noted how his music changed perceptions on previously taboo subjects. The 'World Boss,' as he's popularly known, further claimed to have set the standards on the public's perception of how a dancehall musician should look like.
"No one has had an impact on dancehall locally or worldwide in the last 20yrs like me. I entered the games officially as best new artiste 2002 (by the then JFM) and three years later won deejay of the year a title that I didn't lose until badmind (jealous people) stop the awards. "My styles of music, topics that were previously considered taboo…like oral sex, gogo dancers, my business savvy, my reality show…" he wrote in part.
Despite being imprisoned, Kartel continues to release new music prolifically, releasing over 50 new songs in 2016 alone. However, just months ago a three-member Jamaican court of appeals panel upheld Vybz Kartel's 2014 murder conviction.
Related Topics