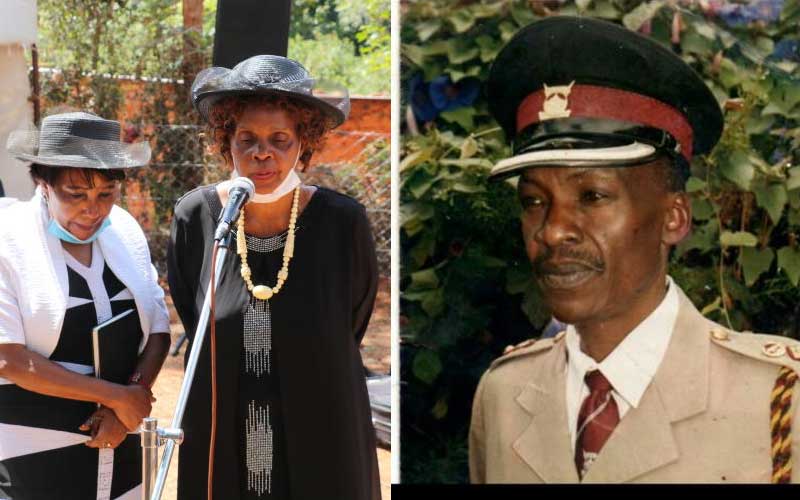 For over three decades, Utawala Jazz Band of the Administration Police (AP) captured the psyche of Kenyans with its scintillating songs fused with a great combination of musical instruments and melodious voices.
However, many would perhaps not know that Matee Festo who was buried yesterday at his Ithookwe home in Kitui County led the band since 1982 when he joined the disciplined forces and was the brain behind the band's success. Two of his greats hits are Kazi ya askari and Stellah.
For his contribution to the entertainment industry and leading the band to greater heights, Festo captured the eye of the president and was conferred with Head of State Commendation last year.
Festo, formerly with Muema Brothers – a band known for its heart-warming rhumba music that rocked Kambaland in the 70s and 80s was sourced due to his expertise and passion for music to give the AP band the much-needed life.
His burial was attended by former and current members of the AP band who hailed the king of rhumba as a man of great humility, a leader, an accomplished bass guitar player and a great composer.
READ ALSO: Five Kenyan musicians who died in unclear circumstances
"He would occasionally remind us that one needed to compose a song that he can listen to even with his mother," said David Kyalo, a member of the band currently serving as Tseikuru sub-County AP commander.
Kyalo described Festo as a man with a big heart who was ready to help. He said it was because of the fallen hero that he was able to join the administration police and the Utawala Jazz band.
Mr Kyalo recalled when he was in Class Seven, Festo attended his father's burial in Kitui South and as a young boy, he could not allow the sad ceremony dampen his desire to capture the eye of the rhumba star.
By then Festo, a lead band member with Muema Brothers was a household name who had composed songs such as Purity, Stellah, Kilumi and Mwaitu wakwa.
Determined to enthral his idol, a young Kyalo took his box guitar and sneaked to where the musician was seated.
READ ALSO: 9 local celebrities we've lost over the last 12 years
"I played him a song which he immediately liked. He asked me to look for him once I was through with my education," the officer recalled.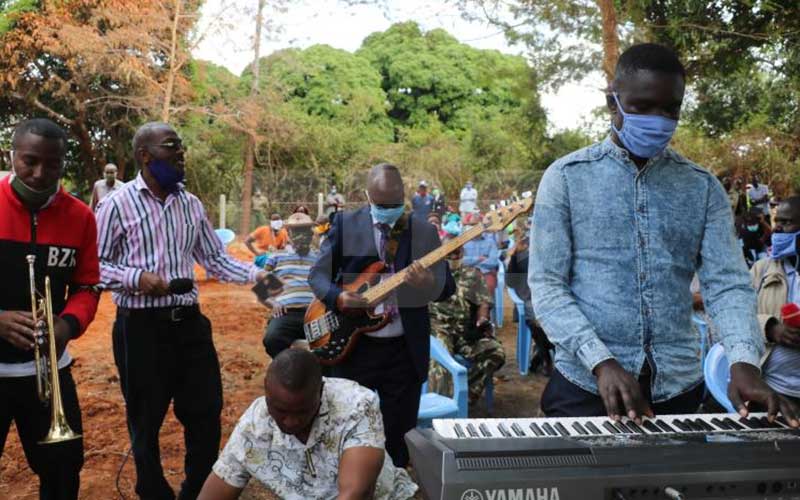 And true to this, when Kyalo knocked on Festo's doors in Nairobi after his secondary school education, the two lovers of music immediately connected. He was now a senior officer.
Festo's humility saw him pilot the AP band to great heights, earning it accolades and respect among the disciplined forces. Occasionally, he would lead a combined team of the disciplined forces' bands among them the Maroon Commandos during special occasions.
Mr Kyalo says Festo would take advice from a junior officer to make the music better.
READ ALSO: Veteran musicians who died in the past two months
"We never felt intimidated around him. If one had anything to correct about the music he would say 'Sir, I think we should have done it this and that way'. He would always listen," he said.
Interestingly, Festo's first song was Purity in which he poured praises on a woman he loved. Yesterday, Purity was in attendance. But in an interesting twist of fate, Purity would later marry Festo's cousin and his best friend Mulandi.
"He was good at hunting the village beauties but on this one, I beat him," Mulandi said amid laughter from the mourners.
His two wives; Rosemary and Margaret eulogised their husband as a peaceful man, a great father who loved his family and gave them the best.
To prove his love for his first wife, Festo composed a song for her koma mwendwa wakwa in which he asks her to rest easy and stop worries.
The musician succumbed to the cancer of the pancreas and diabetes at Kajiado Referral Hospital.
One of his five daughters is also a musician.
Related Topics