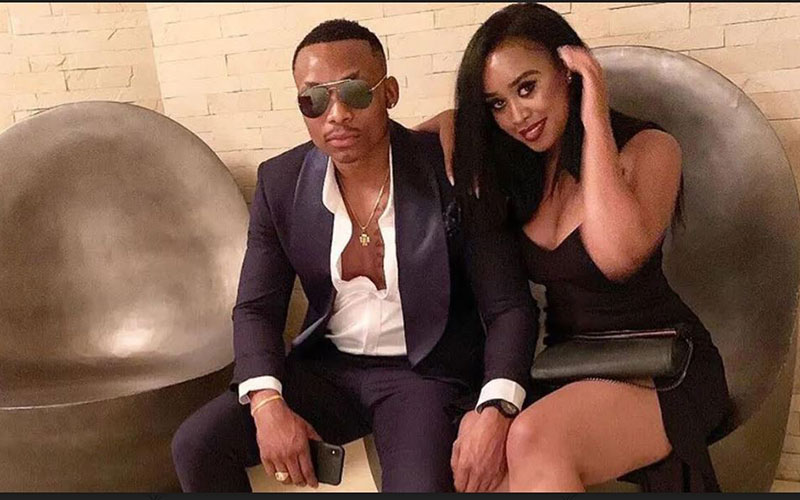 Singer Jacob Obunga alias Otile Brown has finally let the cat out on some intimate details of his relationship with Ethiopian beauty Nabayet. In a lengthy post seen by SDE, 'Bad Man Shivo' listed eight qualities that attracted him to the Ethiopian beauty. Otile described Nabayet as a caring and understanding person.
"Forget the beauty - she is a sign of 1. peace 2. humility 3. happiness 4. love 5. smart 6. unproblematic 7. caring 8. understanding and her smile and laughter can even cure cancer - so therapeutic," he wrote in part.
Otile went on to hint at marriage as he promised Nabbi a car a mansion.
"That's what I ride for ... I promise, soon putting you in a mansion with your favourite car parked outside."
READ ALSO: Who's hotter? Nabayet vs Vera Sidika
Otile's post comes days after Nabbi responded to the singer's confession that he masturbates to stay faithful in their long-distance relationship. While speaking to Jalang'o, Otile disclosed that his girlfriend is aware of his actions and that she fully supports and understands where he is coming from.
"Tunanyonga tu! Utafanya nini sasa! Nikimsubiri na anasupport mnyongo huo, amasema keep doing what you are doing. Anajua with that now, at least boy wake nimetulia," he said.
In an interview with Shaffie Weru, Nabbi echoed Otile's words.
"Yeah I saw that; I saw a lot of messages the next day. It was hilarious, but definitely I'm gone come. Once the borders are open, that would be my first destination. I do check on that every day, so there was nothing new and that's good, it should be appreciated. In fact, it should be something that should be looked up to, I think," said Nabbi.
READ ALSO: Nabayet? Kenyans react to Otile's birthday message to ex Vera Sidika as she turns 30
According to her, they have tried breaking up countless times only to get back together. She confessed that a long-distance relationship is the hardest thing she has endured.
"Long distance relationship is the hardest thing I have ever experienced. I used to preach that long-distance is a no-go zone. But what happens is when you create that bond with someone? Whether the situation is hard or not, you just have to fight for it. We tried calling it quits so many times. People always gonna come up with stories as to why we are not together, 'ooh they broke up, somebody cheated', but that was never the case. Sometimes you just feel tired of fighting, but if the bond is strong enough you will always find a way," she said.
Related Topics