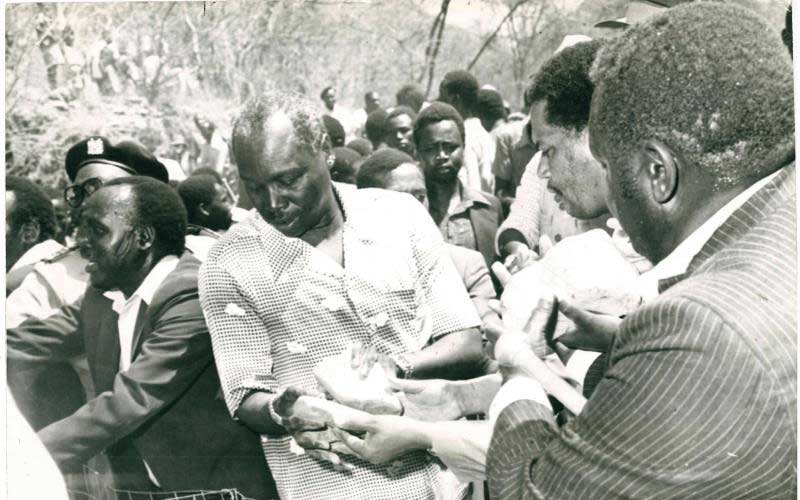 Agriculture being the uti wa mgongo of our economy saw a massive campaign to save, among others, our forests, water reserves and catchment areas and most crucial, soil, whose erosion was washing away vital nutrients integral to sustainable food security.
That last sentence sounds like a report from an NGO battling hunger in some God-forsaken yam belt of taifa tukufu. Which reminds one of the irony of Kenya being an 'agri-conomy,' but citizens experience hunger with food aid coming to their rescue - yet we have had a whole ministry of planning since independence!
Lake Turkana for instance has dried every 30 years since Noah escaped the floods. Fergusson Gulf, the source of 80 per cent of the lake's fish, dried in 1924, 1954 and 1984, which were also drought years.
READ ALSO: Sir Charles Njonjo: The only surviving member of Kenya's first Cabinet
The Turkana, a proud pastoral community, are Kenya's most food aid dependent community who are also worst hit by droughts that come calling every decade - 1954, 1964, 1974, 1984, 1994 and 2004 - when over three million people risk death by starvation.
Did you know that one of the most successful agriculture-based projects in Kenya was retired President Moi's soil erosion prevention project?
More memorable as mpango wa kuzuia mmonyoko wa udongo, the programme, complete with a presidential commission, also involved terracing of hilly farm sides to retain rutuba (soil fertility) and tree planting (with the rallying call: ukikata mti moja, panda mbili).
The story goes that terracing was one of those farming practices that was part of colonial hard labour in Kenya. And few Kenyans engaged in it after independence. Terracing went hand in hand with building gabions, which had also been abandoned until one March day in 1982.
Retired president Moi reportedly gathered the cabinet under a spreading thorn tree in Machakos town in what went down as Kenya's first open-air parliamentary session.
There were no suits, which is part of parliamentary protocol. Even Constitutional Affairs Minister and Kikuyu MP, Charles Njonjo, ever in dark Savile Row pinstripes was in jeans and a T-shirt.
Attorney General Joseph Kamere sported a bush shirt.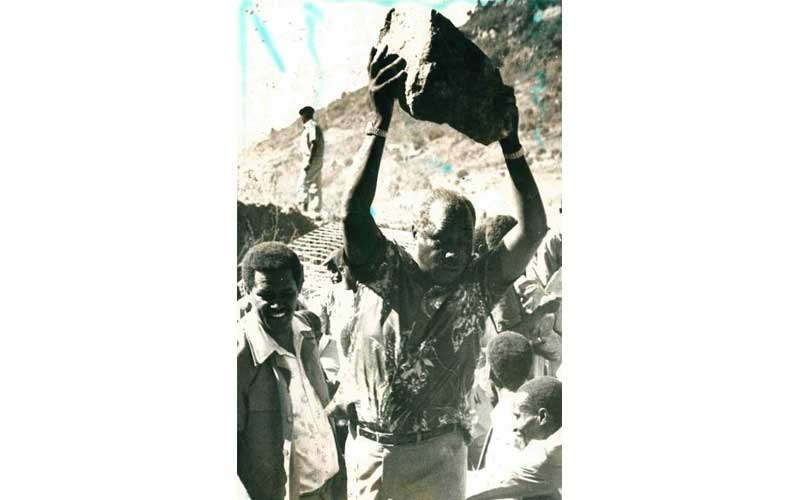 Kenyans in attendance listened as president Moi intoned, smiling: "This parliamentary session is not for talkers, it is for practical work."
What followed was what one might say ilikua ni kama ndrama ni kama vindeo.
READ ALSO: The legendary fimbo that Mzee Moi would never leave behind
The president sprinted towards a large open trench splitting the area. The waheshimiwas followed, panting and sweating. For three hours, they built gabions comprising wire cylinders of soil and stones to fight mmomonyoko wa udongo - whose importance was even part of Sunday church sermons!
It was not easy to pronounce though. Some called it mnyonyonyoko wa udongo, mkonyonyo wa udongo, while a 'certain community' in Central Kenya mistook it for mukonyo wa Odongo or Odongo's belly button!
Moi was among recipients of the UNEP Global 500 award for "active involvement in environmental projects like building gabions and planting trees."
Related Topics