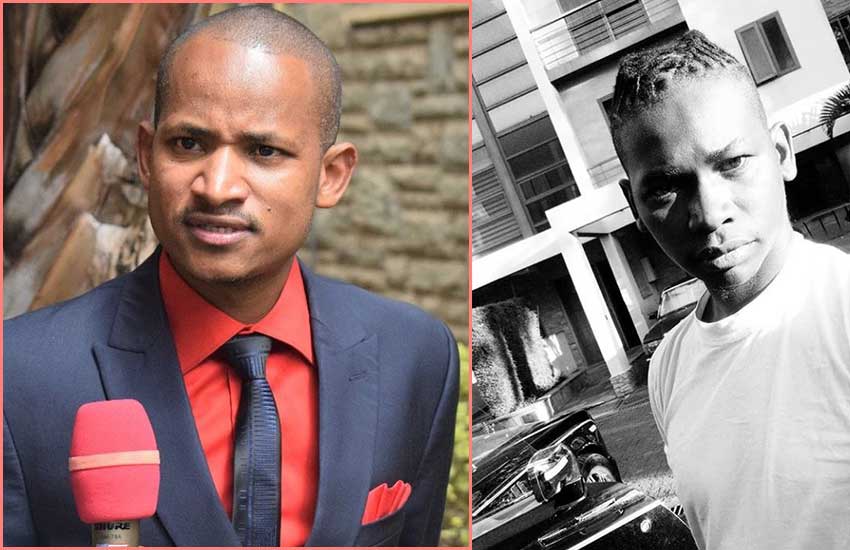 Embakasi East MP Paul Ongili, alias Babu Owino, is in police custody at Kilimani Police Station over the shooting of a club deejay. The incident occurred at B-Club, a high-end bar, in Nairobi's Kilimani estate yesterday morning.
It is now emerging that Felix Orinda, popularly known as DJ Evolve, was shot twice in the neck in what some say was a joke gone bad. Others blame the MP and are demanding justice for the deejay.
Revellers who were at the club said it all began with banter between the two, who teased each other about the size of their guns. It is not clear if the DJ (disc jockey) also had a gun or if the gun was a euphemism for something else.
It was in the middle of the argument over who carries the biggest gun, which had gone on for minutes, that the MP is said to have reacted violently.
"Babu went into his pocket, pulled out a gun and swiftly shot at him twice," a reveller claimed.
In a video that has since gone viral, the MP is seen sucking on a pipe of what looks like shisha.
In the clip, Babu is seen surrounded by some people. When Orinda falls from the impact of the bullet, two men are seen dragging him across the floor.
Police reports indicate that the pistol that was used to shoot the DJ is a Steyr M9-A1. It is Babu and his assistant who rushed the injured artiste to the Nairobi Hospital, where he is admitted to in critical condition.
In a live video taken at the hospital that is doing rounds on social media, the DJ, whose body is heavily bandaged, struggles to talk.
Read Also: DJ Evolve: Meet man 'accidentally shot' by Babu Owino
Spent cartridges and the gun were recovered from the car that took Orinda to hospital, according to detectives.
DCI Director George Kinoti has now said Babu Owino will be charged with attempted murder.
"It is apparent that he wanted to kill the man," said Kinoti.
Witnesses say Babu arrived at the club - which he frequents - slightly before midnight, accompanied by his handlers and companions.
Music flowed, some on his demand. The DJ would occasionally come to his table and take a list of his preferred songs. They drunk, smoked, danced and made merry. When morning came, at around 7am, Babu and his team rose to leave.
"They were intoxicated. We are used to him and his friends coming here to get wasted. We did not think anything would go wrong," said a worker at the club.
They started to lightly poke fun at each other and the DJ joined in. A few minutes later, the shots rang out.
Insiders say the two were close acquaintances and were often together. Whenever he stepped into the club, he would go to the DJ's deck for a chat.
Before the shooting, little was known about the club's young resident DJ. Social media pages that bear his stage name, DJ Evolve, are the closest that one comes to understanding the DJ .
The pages contain snippets of his life as a young man in showbiz - drumming up support for upcoming shows, pictures of him on the deck plying his favourite craft or having a good time with friends.
In one of his favourite social media pictures, the DJ, in his trademark dreadlocks, is seen at the entertainment deck donning a blue sleeveless jacket and a white sweatshirt.
Read Also: Politics aside - Meet Babu Owino's adorable daughters
Those who have interacted with him paint a picture of a young man who was always aloof, except when he was hanging out with some of his clientele.
"He is a humble boy who went about his business in a calm and friendly manner," said Solomon Koko, a writer with The Standard.
Ken Frank, a friend who has known DJ Evolve for 12 years, said he was not the type to cause a fracas, as he went about his work with a quiet demeanour.
"He is a polite man and we have never known him to be violent. We met years ago while he was training as a DJ and we have been friends ever since," said Frank.
Charles Kamau, alias DJ Chally of Kiza Lounge, said DJs are rarely involved in club fiascos as they usually maintain their space without much interaction with revellers.
Kamau, who has worked with DJ Evolve in the same building, said what they have to worry about most as artists were the flying bottles from patrons in the heat of arguments.
"Flying bottles are common and such incidents are well handled by the security team. Most of the time, a patron will come over and say sorry over an incident. We just carry on since we know we are not the targets of their fury," said Kamau.
Read Also: I shall not stop - Defiant Babu Owino says after alleged assassination attempt
Babu is no stranger to controversy. Famed for his signature words "Tibim!" and "Tialala!" that took a life of their own and became his defying phrases during his campaign, Babu has always been a man in the news.
From abusing the president in words that cannot be expressed in print, to beseeching university students to go on strike when he was a student leader, the MP has always led a colourful life.
As if by premonition, he has said in previous interviews that he believes in leadership by the ballot or bullet.
"If we must kill to save all comrades, then we must do it," he once said during a protest in the murder of a student of the University of Nairobi, where he was a student leader for a period spanning almost a decade. During the period, his leadership was full of heavy English words such as 'cantankerous and belligerent', that impressed his loyalists at the time.
His graduation was a flashy affair, appearing in an entourage escorted by men in suits. His victory as Embakasi MP was contested, but he clinched the seat back through a by-election.
Additional reporting by Peter Muiruri
Related Topics