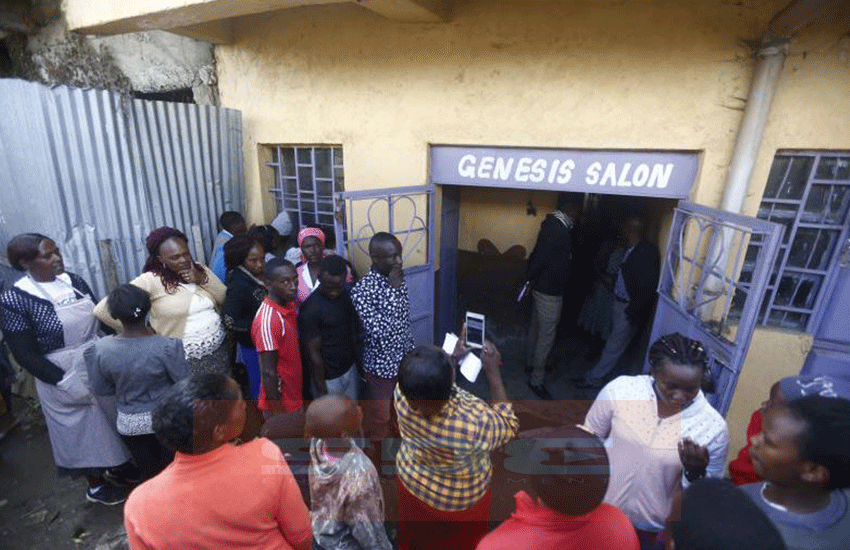 A man allegedly beheaded his 35-year-old wife on Sunday afternoon as a three-year-old child watched.
Lucy Waithera was killed at Genesis Salon, a business that she owned and operated in Molo town within Nakuru County.
According to a report booked at a local police station via Occurrence Book Number 23/29/12/2019, the assailant chopped off his wife's head with a machete following a domestic quarrel.
Molo Sub-county Police Commander Isaac Odumbe said the incident was reported by Martha Muthoni, a business woman who operated a neighbouring shop.
Ms Muthoni told the police that the man visited his wife in the salon and found her attending to a woman who was with her child.
Muthoni reported that when the couple started arguing, the child's mother left.
"The customer excused herself as if to go to the toilet after a quarrel erupted between Lucy Waithera and her husband. However, when she came back, she found Waithera's head chopped off and her child standing in a pool of blood," read the report.
Mr Odumbe said the shocked customer alerted the neighbours who reported the matter to the police.
Read Also: 19-year-old man hacked to death in suspected love triangle
Crime scene
He said the incident happened at around 3.40pm, adding that the assailant left the machete at the crime scene and fled.
"The suspect is still at large after he escaped from the scene. We are doing all we can and we will not stop until he is arrested and brought to book," said Odumbe.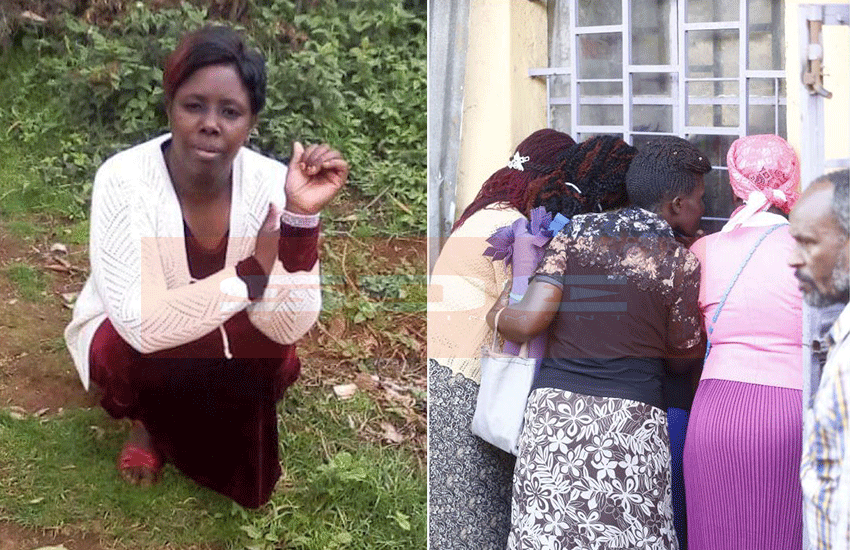 The police boss said that the woman's body was taken to the Molo mortuary for a post-mortem.
Waithera's mother, Hannah Wanjiru, condemned the heinous act.
She said it was unthinkable for her son-in-law to kill her daughter in cold-blood yet the two had lived together for years.
"I want justice for my daughter. What happened to her was heartless and unspeakable," Ms Wanjiru said.
According to Waithera's uncle, Simon Kariuki, the couple had had domestic differences in the past that were resolved amicably.
Mr Kariuki said his niece had fought with her husband that morning, forcing her to flee her home and go back to her mother's house.
"She packed her clothes and took her children after they quarreled," said Kariuki.
Read Also: Man suspected of killing wife and lover after catching them in his bed
He said the husband later followed Waithera to her mother's home and spoke to her. The couple agreed to settle their differences and left to go to the salon.
The uncle said they later received the shocking news that Waithera had been murdered by her husband.
"We urge the police to speed up their investigations and search for the suspect. We want him arrested and charged," he said, adding that this would allow them time to mourn and bury their relative.
Mary Njeri, Waithera's aunt, described her as a hard-working woman who cared for her husband and children. Ms Njeri said her niece was a calm woman who never quarrelled with her neighbours and colleagues. The couple have three children, one who is waiting to join Form One next year.
Related Topics