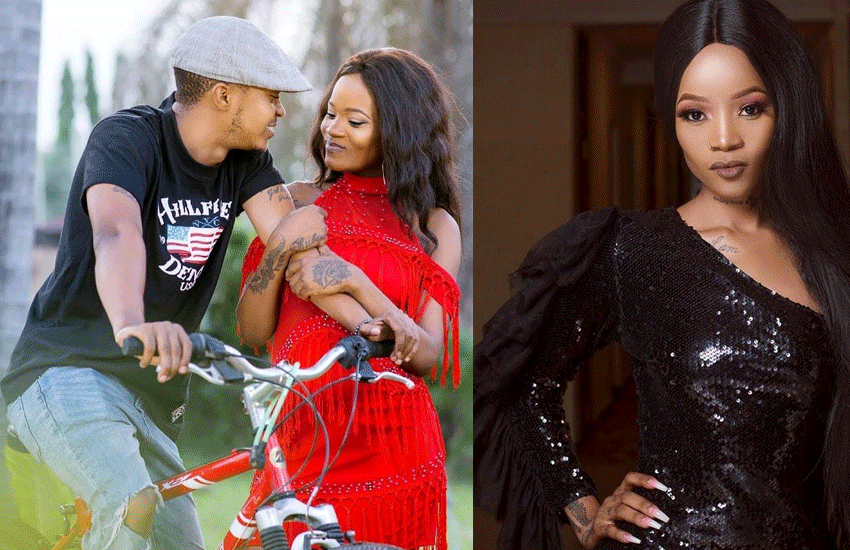 Tanzanian model cum singer, Ruby, has called it quits with her baby daddy Kusah amidst accusations that she cheated on him with WCB CEO Diamond Platnumz and RnB hearthrob Juma Jux.
In a post she shared on social media, Ruby claimed that she was walked out of her marriage due to domestic violence.
"Nimepitia vipigo, manyanyaso, fedhea, kudhalilushwa na kuitwa majina yote kutoka katika kinywa na mikono ya mwanaume ambae alikuja kwangu kutaka support ya kimuziki ila unajua tena love doesn't ask why?" Narrated Ruby.
Explaining how she has always been at the forefront in helping Kusah with his musical career, Ruby accused him of being unappreciative by listening to rumour mongers who, according to her, were out to destroy them.
"Nilijitolea kumpa support na kuonesha uma kuwa nina muamini na nina imani na kipaji chake ila ili hali kuna msemo unasema mwana kulitaka mwana kulipewa; Nimekuwa nikitumia ata jina langu ili dogo kumpambania na kumtambulisha kwa wasanii waliondelea ila mwisho wa siku nimekuwa nikiambulia vipigo na kuitwa majina ambayo mengine siwezi yaandika kwasababu kuyasema ni kuweka kumbukizi Katika tamati ya maisha niliyomuomba Mungu anipe muongozo na anioneshe njia iliyo bora zaidi."
"Nimejitahidi kwa uwezo wangu kukuunganisha na kaka yangu Diamond Platnumz mwisho wa siku unishushie makofi natembea nae ukuishia apo unayasambaza na ya mtu tunae eshimiana Juma Jux kusema natembea nae," read part of her post.
Terming the infidelity rumours as untrue, Ruby insisted that she has her eyes fixed on her mission and such drama will not derail her in any way.
The 'Na Yule' hitmaker went ahead to highlight that Kusah should focus his energy on the wellbeing of their child instead of 'peddling baseless rumours'.
"Mimi ni binti mdogo ambae Nina vision na maisha mbele yangu siwezi katishwa tamaa na jambo lolote linaloendelea na yanayofanywa na baba mtoto wangu kwasababu nimeamua kufikia tamati laasha ningemshauri muda huo anaotumia kuyasema ya uongo angetumia kumuombea mtoto wake akuwe katika njia zimpendezayo Mungu kwasababu kwa kumuangalia sintotaka kumpa mzigo huo kwasababu binafsi anajua nilivyopambana kwake na familia kiujumla ila kwa anayofanya nakuombea Mungu akupe amani ya moyo," she said.
Related Topics