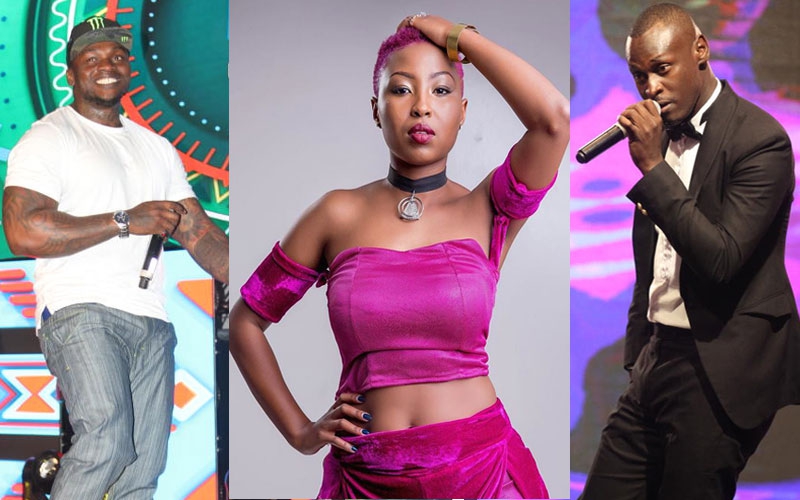 Celebrated Kenyan Hip-Hop artist Khaligraph Jones took to social media to express his displeasure with the Music Copyright Society of Kenya (MCSK).
According to Khaligraph, MCSK, a body tasked with collecting royalty on behalf of authors, composers, arrangers and publishers of musical works allegedly sent him Sh2,530 on Tuesday evening.
Taking to Instagram, the 'Leave Me Alone' hit maker threatened to storm the MCSK offices, further warning them from ever sending him such "peanuts" again.
"MCSK siku moja tutakuja kuwavuruga uko mbaya sana, msijaribu kunitumia izi peanuts tena, in fact i have given authorization for my music to be pirated. Don't collect money on my behalf anymore. Nisiskie mmeshika mtu akicheza wimbo zangu kwa street, msinitumie izo peanuts zenu tena, The OG shall be respected," he posted.
READ ALSO: Which way forward for Elani, MCSK drama over unpaid royalties?
Khaligraph's outcry prompted other artistes to come out and also express their annoyance with MCSK. For instance, According to King Kaka, MCSK might have received about Sh 37Million that is if you multiply the Sh2500 by the number of artistes (15,000) registered under MCSK.
"Kwanza Kabisa I thought it was just @khaligraph_jones anazusha then I got my fair share. Watu kama @SautiSol watatumia hii doh aje surely? If my math serves me right 2500 * 15,000 members that's 37,500,000, MCSK are you sure you collected 37M in one year? Na nikikuja kwa your offices it's all-new cars na muliingia kwa ofisi mkiwa kwa Boda," King Kaka shared on Instagram, adding that "This is very sad and siku moja tutakuja kwa hizo ofisi. Kukula jasho ya mtu mwingine ni laana. Anyway, wacha nikanunue nyumba na hii pesa yangu, if you are selling a property kindly DM serious DMs only. Sasa ntaambia nini watoi wangu?"
Fena Gitu, arguably one of Kenya's most sought-after female rappers also shared a screenshot of an M-pesa text message and captioned it; "Kama royalties ntalipwa same na @khaligraph_jones then pia show mtakuwa mnanilipa rate yake. The OGs shall be respected."
READ ALSO: We will come for our MCSK royalties when we retire- Sauti Sol
A seemingly frustrated Vivian also poured her heart out on Instagram alleging there are some selfish individuals within MSCK who have no respect for persistence and hard work.
"I also received that 2530kshs from @the_mcsk nikahuzunika sababu niliona shetani ananijaribu sana. Lakini the light is always stronger than the darkness and too many of us work hard every day to be controlled by a few selfish individuals who have no respect for persistence and hard work. Hii post ilifaa ijae hasira coz to be honest 2530kshs cannot even buy enough bundles to upload new music on @youtube," she posted.
Related Topics