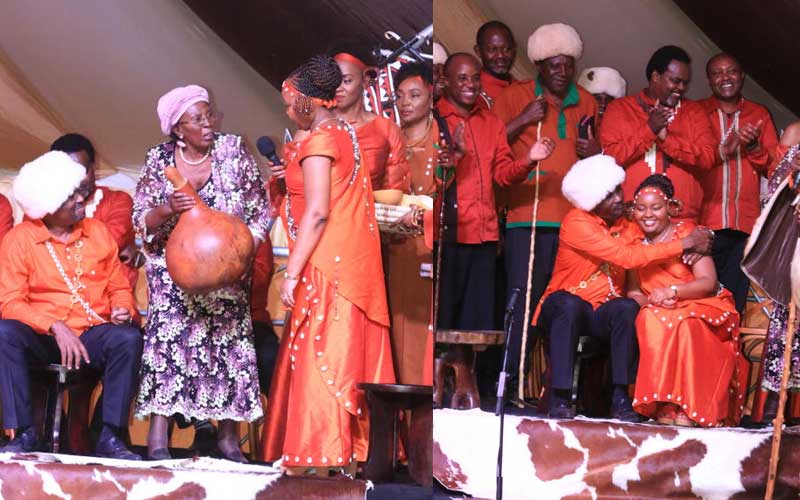 The bride arrived fashionably late. At exactly 4 pm, Anne Mumbi strutted down the red carpet set for her at Kiamugumo Primary School where her big day was scheduled.
Amid ululation and songs from thousands of guests who had been waiting for more than six hours, she walked to meet her groom Kamotho Waiganjo, whose eyes were firmly fixed on her.
Before her arrival, anxiety was building, some joking that she could have changed her mind.
"A bride must be late. She does not want to show her husband that she was too desperate to get married. No woman wants to be known as the one who arrived before the groom," one of the elders whispered to calm the many young people who were getting impatient.
The invited guests had started arriving way before dawn. Some, for fear of missing out, admitted that they were milling at the venue by 5 am.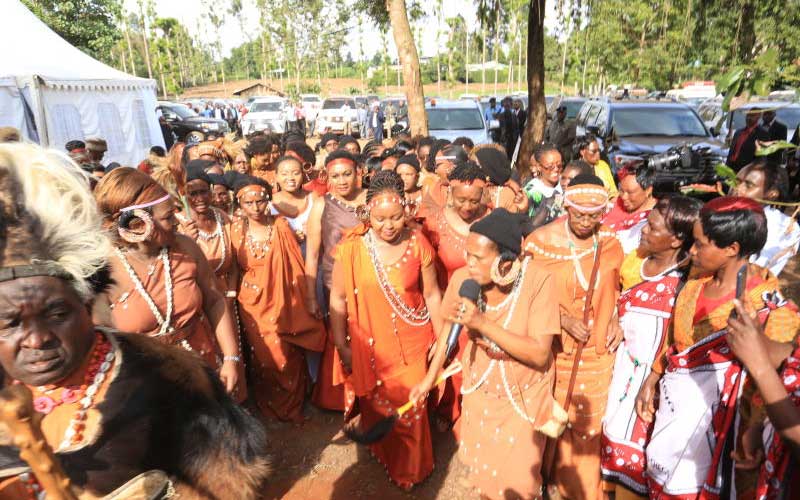 Prominent guests
When Mumbi finally walked in, Clement Warorwa, the elder who was to officiate the event was ready.
Kamotho had arrived slightly after 1 pm, wearing a traditional hat and a broad smile. Their children from their previous marriages were also in attendance.
The welcome was rousing, followed by bellowing claps when Opposition leader Raila Odinga followed almost immediately.
"Is Raila his best man?" people around the heavily decorated tables hosting more than 3,000 guests asked. The guest list had been kept top secret.
Some security people around admitted that they were not aware who had been invited to the much-publicised ceremony.
A few minutes after Raila's arrival, sounds of buzzing choppers rent the air and more dignitaries walked in. Senators, governors, Cabinet Secretaries and MPs. President Uhuru Kenyatta walked in in time for lunch, and as the crowd rose to recognise him, he spent moments mingling with the guests and giving high fives around tables.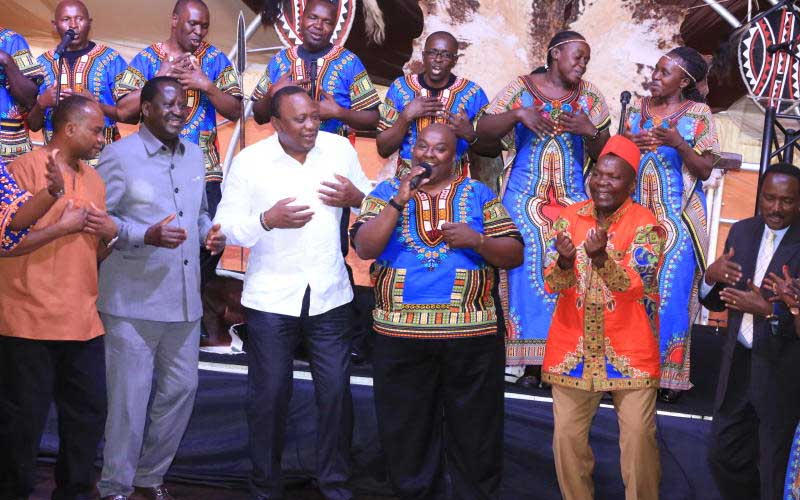 Music rose. Food flowed. Guests hugged. Selfies were snapped. The fashion scene was painted with different colours and themes, with traditional regalia and kitenge fabric taking the day for women.
The colour theme of the wedding was brown with a touch of gold.
When Uhuru and Raila stood for a gig, the crowd went wild. They danced to a song that said their hearts are at peace with God. The crowd swayed along. Kamotho tapped his feet in rhythm.
The ceremony started with cutting of meat, a 'kiande" to signify the unbroken bond that had been created between them, sealed by the cutting of "ngirima" to show that Mumbi had now crossed over and will never leave the Kamotho family. Ikengeto, the ribs, were also cut.
"These ribs show that Mumbi was made for Kamotho. She is a part of him," said Warorwa.
When Kamotho fed her the meat, the crowd was momentarily still. It was the moment they had been waiting for; Kamotho had taken Mumbi under traditional laws. They were married. Solidifying a friendship that they say started over 10 years ago, from the day they hit it off aboard a ferry on Likoni Channel in Mombasa.
The crowd stood to cheer.
Mumbi walked into a makeshift hut that had been built on the dias and emerged with a kiondo on her back. A symbol that she was leaving her home to Kamotho's.
"Murang'a has gained a wife," the elders said. More claps followed.
She placed it at his feet and he nodded in appreciation. She, at least according to traditions, had started fulfilling her wifely duties.
Song, dance and sounds of "awwww" from fascinated young people punctuated the otherwise symbolic event.
Soft side
When their eyes locked, and a smile played on Kimotho's face, cameras zoomed closer. In a mock cooking activity, Waiguru presented a calabash of porridge to Kamotho. He tasted it, pushed it aside and whispered:
"It has no sugar…"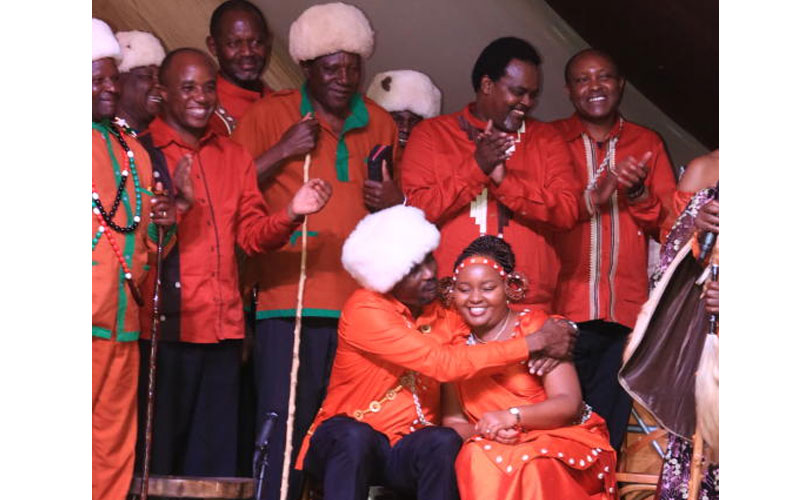 The crowd burst out laughing. Mumbi smiled.
"We never get to see this side of her. We never knew our governor could be that soft. Indeed, a man can mellow any woman," one guest mused, sending the whole table bellowing with laughter.
Before the event ended, the bride and groom embraced.
Each politician who took to the podium gave hilarious anecdotes on what marriage entails. Raila says he does not believe behind every man is a woman.
"What is a woman doing behind a man? She should be in front…" he said with a cheeky laugh.
The crowd roared.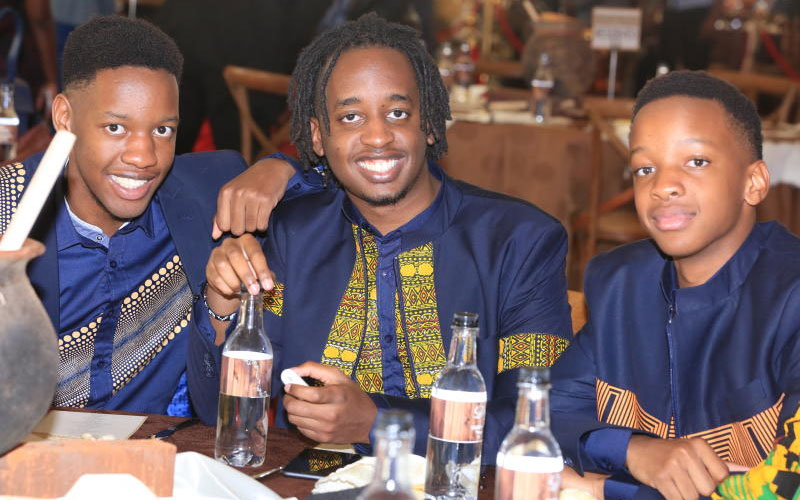 In Agikuyu, Uhuru said when he first got the invite to Kamotho's wedding, he was apprehensive, not knowing what to expect in a wedding of mature people.
"I am impressed by the traditional wedding. We have learnt a lot of things about our tradition," he said.
Kalonzo urged the couple to now go forth and have children.
The President also promised to establish cultural centres in all the 47 counties to uphold cultural diversity.
Cabinet Secretaries Amina Mohamed (Sports), Kamau Macharia (Transport), Monicah Juma (Foreign Affairs) and Governors Ndiritu Muriithi (Laikipia) and Muthomi Njuki (Tharaka Nithi) were among the guests.
Related Topics