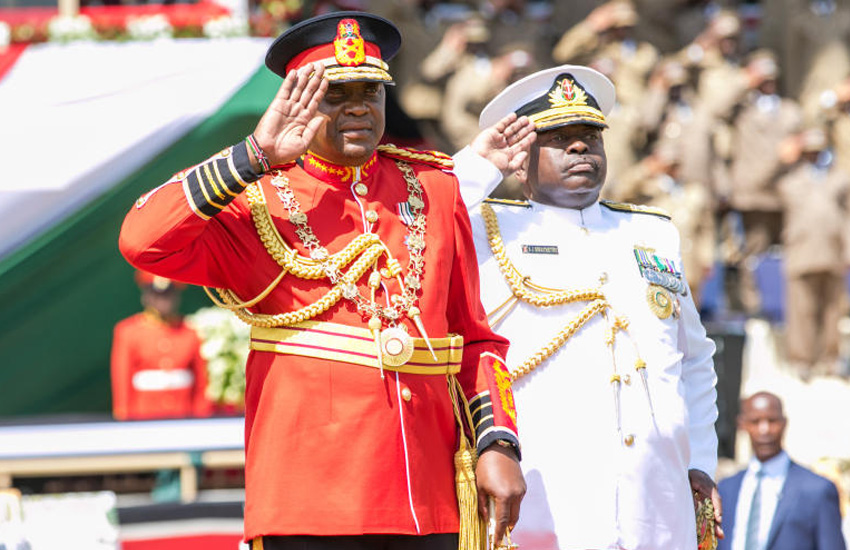 There is a lot to remember about the 2018 Jamhuri Day celebrations held at Nyayo Stadium, Nairobi.
Forget the 17 Battalion, the Kenya Rifles which thrilled the audience with consecration, presentation and trooping of colours.
As Kenya marked 55 years since independence, the commander-in-chief of Kenya's armed forces sported full military regalia for the very first time.
This Jamhuri Day surprise has elicited different opinions, but experts have pointed out that the president was within his right to put on the ceremonial military attire while presiding over the Jamhuri Day celebrations.
Prof Macharia Munene and Captain (Rtd) Dr Simiyu Werunga both agree that as the commander-in-chief (CIC), nothing stops Uhuru from wearing a military uniform to identify with the soldiers.
"Uhuru has no political antagonists at the moment after he closed ranks with Raila Odinga," Macharia said.
Dr Francis Kerre, a lecturer at Kenyatta University, however, disagrees, arguing that "There must have been a solid reason that informed the decision."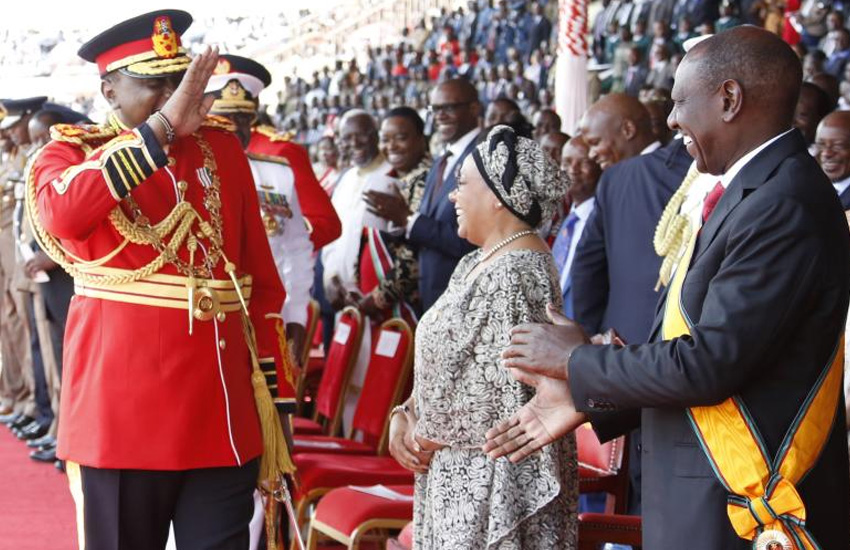 This is an opinion shared by Werunga.
"I think he was trying to send a message that he is in charge of the country and in control of the instruments of power," argues Werunga, the director of Centre for Security Studies and Diplomacy at KCA University.
The former soldier says probably, the president wanted to show we are a sovereign state.
"It symbolises the success of our struggles after many Kenyans died fighting for independence, probably he was trying to send out the message that as we celebrate, let's remember the Kenyans who lost their lives in the fight with colonists," Werunga says.
Uhuru's father Jomo Kenyatta and former President Daniel Arap Moi once wore the ceremonial outfit, but former President Mwai Kibaki never found time for military regalia.
Uhuru's father wore the ceremonial red tunic military uniform in 1971. Moi for the first time appeared in the military gear during the Jamhuri Day of 1980. Soldiers wear the red tunic uniform during special events and ceremonies such as funerals, weddings and state functions.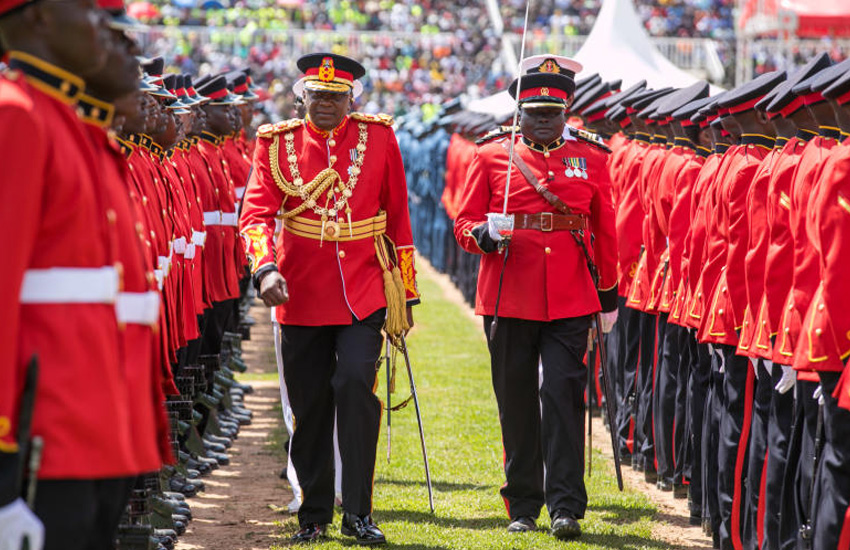 Macharia says that as the CIC, the president occasionally has to show authority through such gestures as appearing in public in military uniform.
"He has been wearing military outfits quite often, for him donning the attire is one way of identifying with his soldiers. He wants to send the message that he is one of them and boost their morale, especially those in Somalia fighting the Al-Shabaab militia," argues Macharia. Uhuru fancies military fatigue according to Macharia, who disapprove of the school of thought that the president was trying to send a political message against the backdrop of intense resistance to the war against corruption and murmurs of discontent within his ruling Jubilee Party.
"Uhuru is an easy-going president who enjoys such moments (being in a military outfit). I don't think the decision was influenced by politics," says the history lecturer at United States International University - Africa.
Uhuru has appeared in public four times in military attire since his election in 2013. He first wore military fatigues when presiding over a military function at Archer's Post in Samburu in September 2014.
Would you like to get published on Standard Media websites? You can now email us breaking news, story ideas, human interest articles or interesting videos on: [email protected]
Related Topics