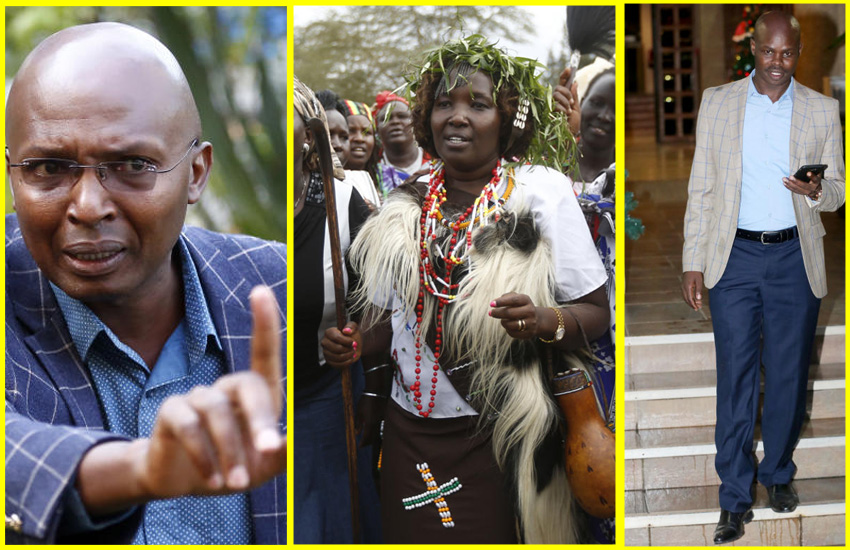 A female politician is entangled in a love triangle involving a Nakuru County MCA and her ex-boyfriend who was her former driver.
Francisca Kamuren was an aspirant for the Nakuru Town West parliamentary seat in last year's elections, has been accused by her ex-boyfriend, Samson Koima of harassment, violence, owing Sh2.4 million and aborting his baby.
Francisca, a 43-year old mother of one, is a former commissioner with the Nakuru County Public Service Board.
Koima, a married man, was her personal assistant and driver in the run-up to the 2017 elections but graduated to a lover during the campaigns.
Koima, a 33-year old contractor and director at the Nakuru County Liquor Board, admits to their steamy love affair that lasted more than three years.
"Yes, we had an affair, which I regret up to now. She made my life miserable and destroyed my family," Koima claims, recalling that they met in 2013 "when she was struggling with her political campaign."
Koima claims Francisca first asked him to be her driver "which I agreed to because I know the constituency well and I was popular as a youth leader. I wanted to help her, but she had other ideas."
Koima claims he blew Sh2.4 million to complete her house during the 2017 election campaigns "when voters began demanding to know where she lived, but she had no place of her own in Nakuru Town West. I intervened and completed a house she was constructing to save her from the embarrassment. That money is yet to be refunded as we had agreed."
He further claims that their fling went south when Francisca began demanding that he divorce his wife for her. Koima claims he refused and dumped her, but Francisca has continued causing drama at social places, yet she has a new man in her life.
In one incident, Francisca's car had its windows smashed during a confrontation at a local hotel, while Koima reported to the authorities that Francisca was maligning him on social media "because she can't believe that I left her. I will be moving to court since she has been embarrassing me in public."
Koima added that, "She has a new boyfriend, a former colleague at the County Public Service Board, who is also a member of the Nakuru County Assembly."
The said colleague is Dr Peter Mbae, the MCA for Kabazi ward in Nakuru County. But the MCA rubbished Koima's allegations.
Koima claims Francisca "wanted to get pregnant and we even involved a traditional medicine woman to get her some herbs, which she used and got pregnant, but I was shocked when she aborted the child in April this year."
Francisca trashed the allegations, claiming instead that Koima was "being childish" and has been trying to blackmail her.
Koima's wife, Beatrice Tuitoek, 29, says that ever since Francisca came into the picture, her husband changed like a possessed man.
"He spent more than Sh2 million on her campaigns and disappeared from our matrimonial home, hardly coming home to check on our children," she told The Nairobian, adding that since "my husband is no longer interested in her, she should try and make a home with the new man."
But Francisca refuted the allegations, saying Koima was using his wife to advance baseless accusations. She, however, acknowledged working closely with Koima during campaigns ended the working relationship after the elections "because of his behaviour."
She stated that: "The story he is trying to peddle is full of lies and malice. He is trying to blackmail me, something he has perfected over the years," she told The Nairobian, insisting that she doesn't owe Koima any money since "I have never borrowed money from him. This man is peddling falsehoods for his own selfish agenda. Let him show you the evidence that he gave me such an amount of cash. He has been telling everyone who cares to listen to him that I owe him Sh2.8 million and now he has told you a new figure of Sh2.4 million," said Francisca.
Meanwhile, Dr Mbae confirmed Koima's allegations but dismissed them as "nonsense" as he has been sending him text messages demanding Sh2 million he allegedly received from Francisca.
"This issue is meant to malign my name. (Francisca) Kamuren is a friend and a former colleague and I cannot just ignore her because some man is making wild allegations," explained Dr Mbae who has since lodged a complaint with the police.
Would you like to get published on Standard Media websites? You can now email us breaking news, story ideas, human interest articles or interesting videos on: [email protected]
Related Topics