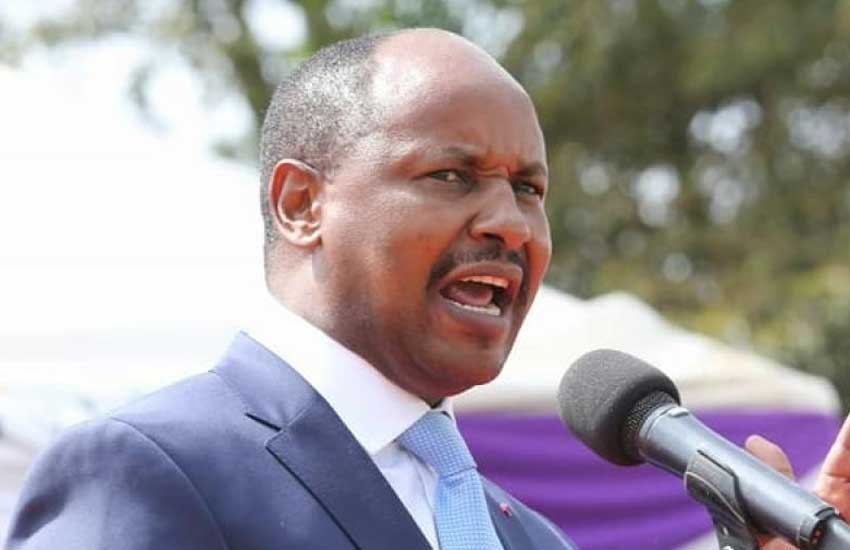 In another life, Githunguri MP Gabriel Kago Mukuha, popularly known as 'Kago wa Lydia,' could have been a Catholic Priest.
But the first time lawmaker has been in the news on allegations of assaulting his wife, Emily Wanjiku, prompting a section of residents to push for action to be taken against him for failing the integrity test.
Both husband and wife had separately reported assault charges before his wife recanted.
It is against the law in Kenya to give false and misleading information to the police, but Kiambu Sub-county DCIO Paul Wambugu told The Nairobian that the couple is not interested in police pursuing the matter further after reconciling over their differences.
"Sometimes, family issues are very interesting…someone can lodge a complaint and the next minute, she/he wants police to go slow. In the case of the MP and his wife, both made complaints which they have since withdrawn," said the senior detective, adding that since there is no complainant, the matter will rest.
But FIDA Kenya has taken keen interest on the matter and in a statement, it said; "condemns the violent attack on Emily Wanjiku…and will follow up on the investigations in this case to its conclusion."
Githunguri based Human rights activist Paul Mwangi is also leading the collection of signatures to prepare a petition against Kago wa Lydia for giving false information and violating Chapter Six of the Constitution.
"We are worried that if no action is taken against Kago, he is likely to repeat the same action and harm his wife or a resident," Mwangi said.
But Kago wa Lydia would even not have been a politician battling petitions and unwarranted attention were it not for his mother.
In a story, he recounts during public functions starring Catholic clergy, Kago recalls how his mother prevailed upon the late Maurice Cardinal Otunga, then head of the Catholic Church in Kenya, not to let him become a priest.
Her reasons were simple: Kago's sister wanted to become a Catholic nun and she wanted grandchildren from Kago, being her only son.
That was how Kago wa Lydia's life took a different turn.
With Githunguri producing more milk per square kilometre than anywhere else in Kenya, it was not surprising he put to good use his diploma in general agriculture and bachelor's in business administration from Pwani University and Presbyterian University of East Africa, respectively and took to poultry and then dairy farming with gusto.
That was until he burst into the political limelight during the 2017 elections as the Jubilee nominee, trouncing sitting MP Njoroge Baiya in the hotly contested polls.
But the focus has changed to Kago's recent domestic tiff and the resultant assault charges by his wife and which were filed with police OB numbers and P3 Forms to support the claims.
Although they were heavily circulated on social media, Wanjiku later termed them as "exaggerated" by bloggers and Kago's political enemies to "tarnish his name."
Kago was said to have reported home late and pounced on Wanjiku at their Loswan estate home along Kiambu Road on September 26.
Wanjiku was treated and discharged from the Kiambu Level Five hospital.
The matter was reported at Kiambu Police Station under OB 05/27/09/18 in which she claimed Kago had attacked her with a hot iron box, leaving her with injuries on the neck, back and limbs.
Kago also filed assault charges against Wanjiku under OB no.45/27/09/18 at the same police station.
Both the Kiambu police boss Patrick Kiprop and Kiambu DCIO Wambugu confirmed the assault charges were reported by the couple before Wanjiku later dismissed the incident and asked those behind the online trolling to "leave my family affairs to myself, my children and my husband."
Kago, who was present, distanced himself from discussing family matters with the press, but close family members intimated to The Nairobian that the family kerfuffle was not an isolated incident.
Kiambu politician Njenga Wamabati, who unsuccessfully ran for Kiambu Town parliamentary seat, came to Kago's defence arguing that "no marriage is perfect," wrote Njenga on his Facebook page, adding that he had spoken to Kago and "he is remorseful and regrets this sad and shameful incident."
Would you like to get published on Standard Media websites? You can now email us breaking news, story ideas, human interest articles or interesting videos on: [email protected]
Related Topics