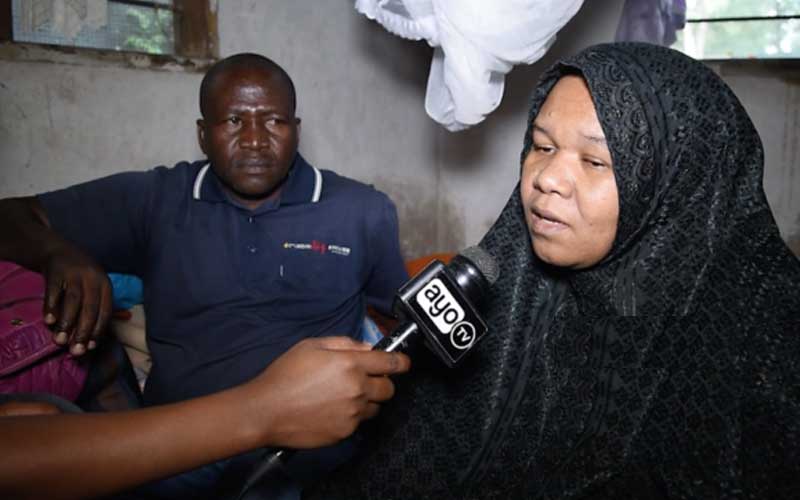 12 days since his demise, Mzee Majuto's widow Aisha is now claiming she has been kicked out of her matrimonial home in Tanga by his relatives.
Aisha is his last wife with whom he tied the knot with in 1997, the couple were blessed with four children with the oldest being 17 and their last born daughter at 3.
Speaking to Tanzanian press, Aisha claims the late Majuto's family has offered no assistance to her after reaching an agreement as a family that they would help her.
''Mwambie huyo shemeji yako kwanzia sasa hivi sisi hatuna uwezo wa kumsaidia chochote. Hakuna gari ya kumsafirisha yeye si hapa ndani ya Tanga wala nje ya Tanga. Wala ya kumsaidia chochote asituulize chochote kula wala nini. Kwanza sasa hivi ajisaidie mwenyewe kupitia pole anazopewea na watu,'' she narrated overhearing the late Majuto's brother's conversation regarding her transport situation to Tanga.
Having been hit the with the hard news, Aisha together with her children are appealing for help after their only bread winner lost his life.
''Kutoka pale mimi nikawachana nao…lakini ukweli toka amekufa marehemu mume wangu mpaka sasa hakuna mtu ambaye amenisadia zaidi ya watanzania na marafiki wa mume wangu bas,'' she said.
Not in a position to work, she has appealed to well wishes.
''Mimi mpaka dakika hii atakaye weza kunisaidia niko tayari,'' Aisha said holding back tears.
The celebrated actor died while receiving treatment at Tanzania's Muhimbili National Hospital in Dar es Salaam.
Related Topics