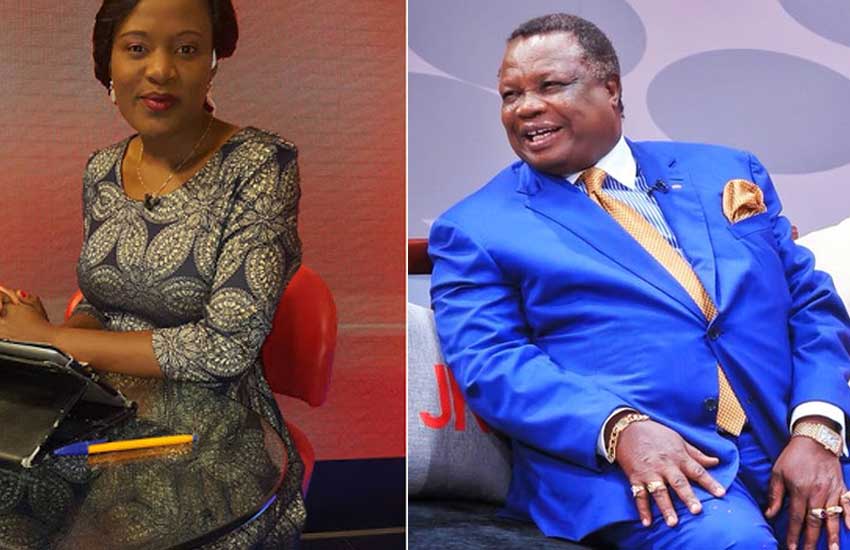 COTU Secretary General Francis Atwoli has for the first time spoken about his relationship with KTN news anchor Mary Kilobi after their marriage came to light a week ago.
Speaking during an interview at Citizen Tv with Jeff Koinange on JKL, Atwoli revealed that he met Kilobi 13 years ago when she was 21 and vowed to marry her.
"When I met her about 13 years ago, that's in 2005 in Kampala and she was at that time with Uganda Broadcasting Corporation (UBC) and I was in the company of my second wife whom I have released to go and do politics and she has taken over.
"At that particular time we talked and she was still young at around 21 years old and I told her when you mature even if it takes 1000 years I will marry you. After her stay in Uganda she came back to Kenya, got a job with KTN.
"And because of the nature of work I do, you need somebody to assist you, you want somebody to rush and get you something and it must be a person you trust. She is my assistant, she is my lover, she is my wife and she got to take care of me. I'm a stupid lover," said the COTU boss.
Asked to comment about his wife Mary Kilobi, who was watching the show at home, Atwoli described the Kiswahili anchor as a nice lady who is taking good care of him.
"I tell her she is a nice lady, she is taking care of me, she is committed to our relationship and that's all. But that does not mean I don't respect my elder wife. She is a wonderful mama she has kept my family together and she is doing a commendable job," added Francis Atwoli.
When asked about the age difference he responded, "There is no age limit between a man and a woman, everywhere in the world.''
Atwoli is 36 years her senior.
In a candid interview with the Nairobian, the pretty media personality revealed that they met while she was in Uganda where she was working as an intern with Uganda Broadcasting Corporation.
Atwoli was in the station for an interview and upon hearing of a Kenyan girl who was working there, he insisted on meeting her.
They exchanged numbers and in 2016 he won her heart.
''He proposed to me but I said no. But he insisted. He persistently stated that he was serious and would wait for even 1000 years for me to say 'yes' and marry him,'' said Kilobi.
Related Topics