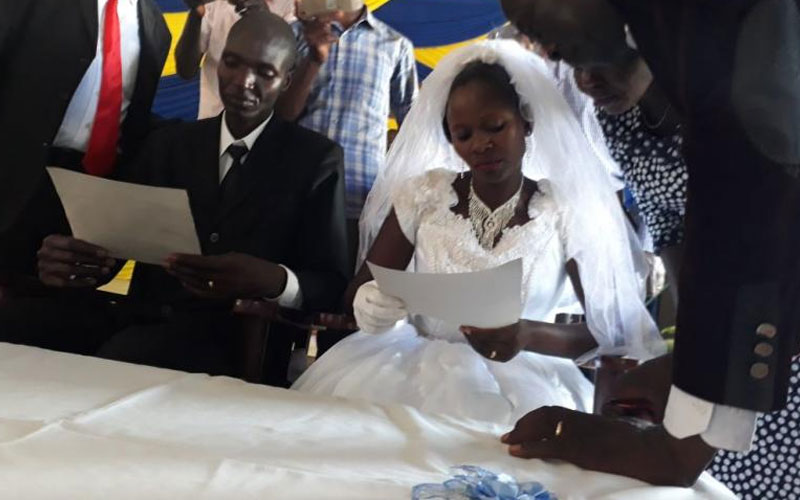 We speak to a deaf couple about their love that blossomed at a church seminar, and they tell him how they kept it alive on WhatsApp
They also share on being ridiculed for their disabilities
This is the kind of love story only witnessed in fairytales. A love that defied all odds to blossom and culminated into a colourful wedding of its kind.
The couple, Calvin Otieno, 36, and Consolata Bhoke, 32 (both deaf), had relied only on sign and text messages to express their affection for each another for the three years they have been dating.
Last week, the lovebirds tied the knot at Oyugis Town Redeemed Gospel Church in Homa Bay County. The ceremony left residents in awe.
With the help of an interpreter, the huge gathering that turned up for the wedding followed the proceedings without missing a word the couple's wedding vows.
"I do," the couple responded in sign language as pastor Vitalis Oduor read their vows.
The lovebirds then exchanged a passionate kiss amid cheers from guests.
Speaking to The Nairobian after the wedding, Otieno revealed he was delighted to have finally married the girl of her dreams. He said their love story started three years ago when they met at a church seminar in Migori.
The couple said it was love at first sight and not even their disabilities could come in the way of their feelings for each other.
Otieno lost his hearing ability when he was about seven years old, while Bhoke has had a hearing impairment since birth.
"When I met Bhoke during a church seminar three year ago, it was love at first sight, after which we kept in touch by communicating through text messages and WhatsApp," said Otieno.
They would chat late into the night and their love grew stronger by the day.
At first, Bhoke was scared that their parents would object to their union due to their physical disabilities, but they eventually gave the couple their blessings.
Bhoke who hails from Kugitura village near Isebania border town said that she was extremely happy when their parents gave them the go-ahead to marry.
The groom's parents, Eston Ogello and Margaret Anyango, were happy that their son is finally settling down.
Ogello said that they negotiated the bride price with their in-laws who were demanding 15 cows since they had taken their daughter to school and she was now employed.
They eventually settled on eight cows as bride price.
"When we visited our in-laws at Kugitura village, we gave them Sh38,000 which is equivalent to one cow, so that they could allow our son to marry their daughter. We are going to pay the remaining seven cows in due course," said Ogello.
On the other hand, the bride's parents, Charles Mwita and Mary Muruga, were equally thankful to God for their daughter's happiness who has been a teacher for the last 10 years at Ntimaru School for the Deaf in Kuria East sub-county.
Mwita recalls the ridicule from his relatives and neighbours who could not understand why he was struggling so much to educate a daughter who was deaf.
Mwita said that he enrolled her daughter at the Rongo School for the Deaf where for her primary and later secondary education before she got a teaching job.
"When my daughter got a teaching job 10 years ago, she was paid a mere Sh3,000. I am glad that she is currently employed by the Migori County Government and getting a better pay package," said Mwita.
Pastor Oduor blessed the couple and wished them well.
Related Topics