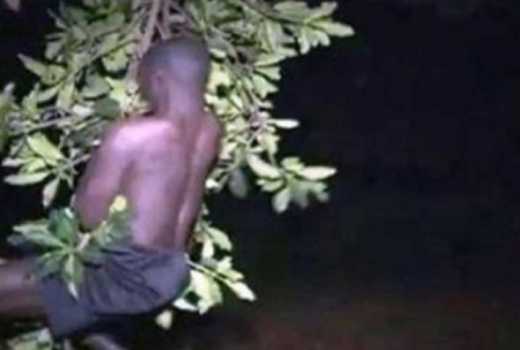 John Monyi*, is the chairman of night runners in Homa Bay County.
He explains the satisfaction derived from night running, dancing and scaring people: "When I am outside at night doing my thing, I cannot go back to my house until after I have scared someone either on the road or in their house," he confesses.
If he doesn't find anyone to frighten, he opts to running around his compound or in a playground. But he is very particular that they don't kill or injure people.
"If you meet me in darkness and I scare you and you know I am a night runner, the fear itself will be enough to make you lose your senses," notes Monyi. This is probably what happened to Felix Odhiambo when he encountered a night runner in 2006 in Dandora.
"There was one where we used to live. He didn't just run, but he also cast spells on his victims," Odhiambo claims. "I was walking home late in the night one day when all of a sudden, I felt a cold run down my spine. I felt so cold, I couldn't walk. My legs just couldn't move. I tried screaming but my mouth wouldn't open.
"Then the night runner appeared on the path in front of me and dashed into a thicket. Suddenly, he was behind me and dove through my legs, rolled on the ground and jumped into the thicket," recalls Odhiambo.
He says he was rooted to the spot for almost an hour after the night runner had gone before he regained the strength to run away.
But Songo explains that when they accost someone at night they use all manners of tricks to to scare them. Songo says he has been a night runner for more than three decades. He was initiated into it while in primary school and by the time he was in secondary, he was already a 'chief prefect' amongst night runners. He says people who are closely related never mix during their activities, since it requires that they be naked.
Monyi confesses that his three wives and 15 children are night runners too. The fourth wife is the only one who has not joined the 'team', but he hopes she will join them soon. "I cannot run naked in the presence of my children because we need to maintain the lines of respect," observes Monyi.
Both Songo and Monyi, claim to be devoted Christians and regularly go to church. "We want to turn the practice into a money-making venture, where different people could come to see us perform our favourite night sport," he says.
The night runners are also seeking to be officially recognised and be allowed to do their thing during the day as well. The association of night runners allegedly has a membership of about 7,500. If registered, night runners intend to showcase what they do to people during the day.
Related Topics