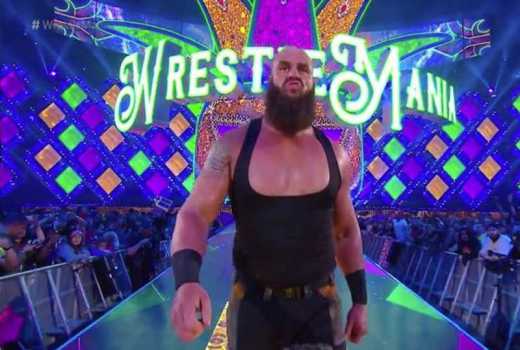 WWE fans were left stunned as a '10-year-old kid' named Nicholas became one half of the RAW tag team champions at WrestleMania 34.
Braun Strowman has been looking for a partner for a number of weeks, since single-handedly winning a tag team battle royal on Raw.
The Monster Among Men had hoped to fight alone at the Show of Shows, but was told by Raw GM Kurt Angle that he must find a partner to take on Sheamus and Cesaro, aka The Bar.
Strowman entered the ring alone in the Mercedes Benz Superdome and when asked who his partner would be, responded by taking the microphone and declaring to the crowd: "My partner...is one of you!"
Strowman then went out into the crowd to find himself a partner, where he eventually picked out a young kid, and led him back to the ring.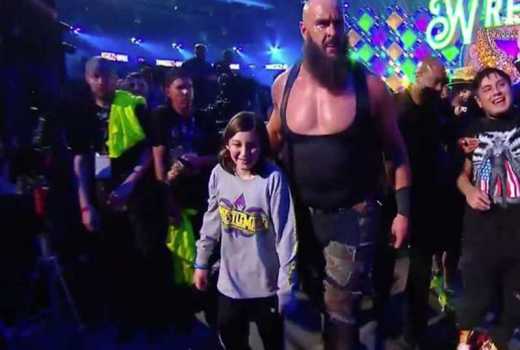 There, the youngster declared himself Nicholas, and proceeded to stand on the apron as the match got underway.
Strowman and The Bar went hammer and tongs at one another, before one moment where Strowman had thrown Sheamus out of the ring, with both Strowman himself and Cesaro down.
Nicholas held out his hand for a tag and got one off the Monster Among Men, before entering the ring - and swiftly tagging his partner back into the match.
Strowman would then powerslam Cesaro, pick up the one, two, three, and win the tag titles for himself and Nicholas.
Nicholas wasn't just any random kid however.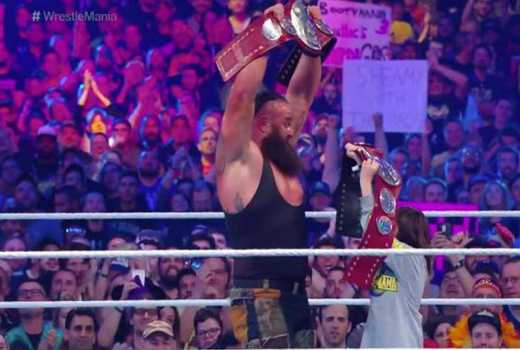 According to Bodyslam.net, he is in fact the son of WWE official John Cone.
Regardless, it's still pretty cool. Or absolutely awful, whatever your point of view.
EXCLUSIVE: Go behind the scenes as @BraunStrowman leads his tag team partner Nicholas to his first, official @WWE photo shoot! #WrestleMania pic.twitter.com/ePE4VCT6E6

— WWE (@WWE) April 9, 2018
Nicholas: "What did you do yesterday"? Nicholas's friend: "I went to church with the family". "How about yourself"? Nicholas: "I went to WrestleMania with the family". "Oh cool"! "And I won the tag team titles with Braun Strowman". "Oh co.. wait what"!?

— John Louis Salas (@JLouis36) April 9, 2018
Braun Strowman and a ten-year old child named Nicholas just won the RAW Tag Team Titles on WWE's biggest pay-per-view. How could anyone even be mad about that? #WrestleMania

— Sean Burke (@BigBurke18) April 9, 2018
I don't know what wrestling is anymore. Braun Strowman is tag team champions with a child that I'm pretty sure he stole.

— Christian Mayland (@MaylandRambles) April 9, 2018
When will Braun Strowman and Nicholas's tag team merchandise drop on the wwe shop? #wrestlemania

— Matthew Koffel (@koffelmatthew) April 9, 2018
Related Topics