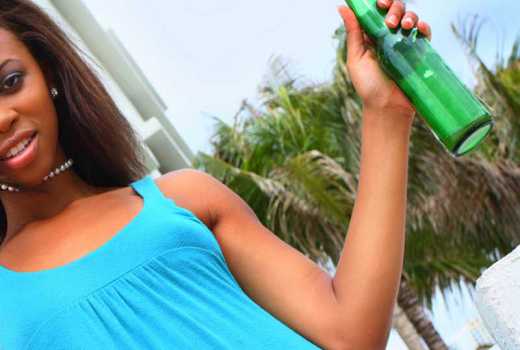 A beautiful 26-year-old Ongata Rongai girl who blacked out in a bar woke up to find a watchman huffing and panting over her. Another, Ann (not her real name), was raped while drunk by two policemen in October 2015.
Ann does not hide the fact that she likes her tipple. She drinks every day. It doesn't matter what type of alcohol it is. As long as someone else buys it and it neither causes blindness or death, Ann will drink it.
But the 28-year-old says she wasn't "very drunk as she had just tasted alcohol" that fateful night, which is why she can remember every detail of how she was gang-raped, and then beaten by law enforcement officers.
In her statement recorded at Kilimani Police Station, the woman says she had gone to her ex-husband's place of work, a tour firm on Ngong' Road, on the afternoon of October 13.
In her police statement, she says that "...together they dragged me on the ground to a thicket off Ngong Road, tearing my clothes. One held my hands as the other removed my panties and then they raped me in turns. I fought back, but he kept on hitting me until I stopped struggling. They continued raping me until I passed out."
An examination report at the Nairobi Women's Hospital states she had heavy bruising on her genitals. She was tested for sexually transmitted diseases and put on medication. But the psychological agony remains.
However, then Kilimani OCS Gilbert Ngui says the woman was arrested and brought to the station for creating a disturbance.
"Witnesses say she had been dropped at the complainant's property by two men in a white car. She was naked and drunk," Ngui says.
Ann, like many women who are addicted to alcohol, has been raped several times, mostly when drunk.
A United Nations study released in September 2016 that polled 10,000 men in six countries in Asia, Pacific and Africa, revealed that 25 per cent of the men admitted to having raped a woman in the past two years. The most common reason cited was the sense of male entitlement.
Two thirds of the men who had admitted to having raped a woman said they knew they would face no legal consequences. A 2011 study revealed that 37 per cent of men in South Africa admit to having raped a woman in the past.
Ben Nyamai, a taxi driver in Nairobi West says he once rescued a woman who was just about to be raped by street boys at 2am along Muhoho Road in Nairobi West.
He narrates that, "I was in my car waiting for a client outside Nairobi West Mall when I saw a girl leave the bar with a couple of friends, and they started arguing leading to her friends taking a cab and leaving her. I think she then decided to walk up to the main road to pick a matatu. After a few minutes, I decided to drive after her because I have a daughter her age and I was worried. I met her barely a few hundred metres later, a group of street boys were dragging her to the deserted stalls. I hooted loudly and came out of the car with a rungu, and the boys fled, leaving her half-naked. I kept her in my car until morning when she woke up and drove her home."
The prevalence of sexual assault involving alcohol use cannot be accurately determined, as it is usually unreported because most of the time, the victim blames herself and wishes to avoid personal embarrassment, says University of Nairobi sociologist Ken Ouko.
He explains that although alcohol consumption and sexual assault frequently co-occur, there is no proof that alcohol use causes sexual assault.
"In some cases, men with the desire to commit a sexual assault will consume alcohol to justify their actions. In other cases, alcohol can lead to sexual assault," he says, giving the example of the common notion that alcohol is an aphrodisiac.
"Many men and even women believe that alcohol increases sexual desire and that's why many men prefer to take women on dates where alcohol is served. We even have drinks nicknamed panties remover."
Bishop Gideon Mwarandu of Lords Gathering Centre says society perceives women who drink alcohol as being more sexually available and promiscuous compared to women who do not drink.
"Men who can sexually assault them use the excuse of labelling a drinking woman as loose or immoral. They ask themselves what a woman is doing alone, getting very drunk unless she is 'asking for it', and they 'give it to her'. It is the wrong mentality," says Mwarandu.
According to Core Institute study, at least 80 per cent of college students who engaged in unwanted sex were under the influence of alcohol, while the Journal of Consulting and Clinical Psychology, indicates that alcohol use at the time of sexual attack was found to be one of the four strongest predictors of a college woman being raped.
Related Topics