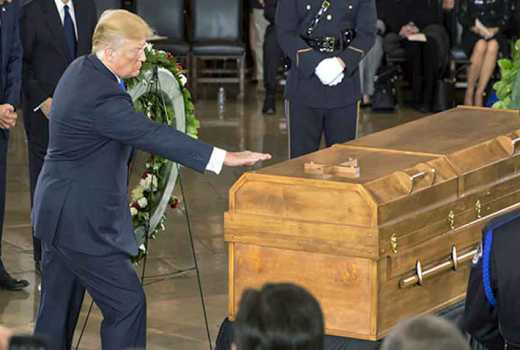 Billy Graham, America's greatest televangelist, was buried in a simple wooden casket made by prison inmates in Louisiana worth a paltry Sh20, 262.
According to his son Franklin Graham, the casket was "handmade by a convicted murderer named "Grasshopper" at Angola Prison in Louisiana."
In a video that he attached to his tweet, Franklin revealed that the casket was lined with a white mattress pad and had a wooden cross nailed on top and cost Sh20,262 ($200).
CNN reported that the casket was courtesy of Franklin who was impressed by its simplicity and natural beauty when he visited the Louisiana State Penitentiary in 2005.
Franklin then asked the inmates to build two caskets for his parents and two years later, his mother Ruth Bell Graham died and was buried in one of the caskets handcrafted by the Angola inmates.
13 years later, the whole world was talking once more as the remaining coffin created abuzz as over 2,000 people descended on North Carolina to send off America's most prolific preacher who passed away at 99.
It added that the convict who made the casket died in 2007 but remarkably stated that Graham deserved a simple casket to capture his simple message that reached millions across the world.
"Billy Graham is a simple man who preached a simple message. He must be buried in a simple casket," "Grasshopper" was quoted as saying.
President Donald Trump was among the thousands of mourners who attended the funeral of evangelical preacher.
He was buried beside his wife.
Many people have asked me about my father's casket. In this short video, my son Roy shares the story and we have footage of the casket being handmade by a convicted murderer named "Grasshopper" at Angola Prison in Louisiana. pic.twitter.com/DPyU0Yz4QC

— Franklin Graham (@Franklin_Graham) March 1, 2018
Related Topics