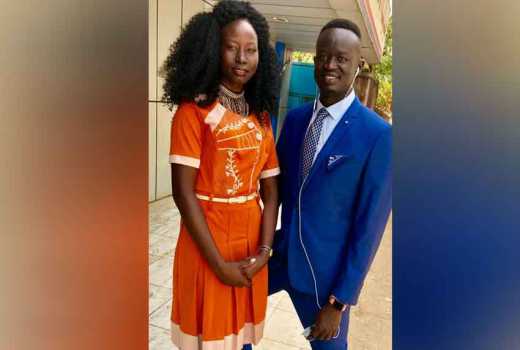 A 19-year-old girl has been deported to South Sudan to wed a rich old man
Aluel was repatriated to South Sudan by Interpol officers just a few days after her arrival
It had been agreed that the man would marry her and give her parents 150 cows
Last week, a scared and emotional Rebecca Aluel Garang arrived at the Jomo Kenyatta International Airport, praying and hoping that she was finally safe.
The tall, slender 19-year-old girl with delicately beautiful looks had flown more than 1,000km from Juba, South Sudan, running away from an old, but wealthy man with three wives, whom her parents were forcing her to marry.
But her joy was short-lived. On Sunday afternoon, Interpol officers took Aluel from Embakasi Police Station and took her back to South Sudan.
Aluel had experienced a relatively normal life growing up in South Sudan. The firstborn and only girl in a family of three boys, Aluel's parents had treated her just as they did their sons, even giving her an education.
Although Aluel has not completed her education, she has reached the third year of secondary school.
The peace and normalcy Aluel had known since childhood, however, disappeared last year. It was the year Deng Abiem Deng, a Sudanese national working in Australia as a doctor, returned to South Sudan to find a wife. While on his quest, he met Aluel and the two fell in love.
Deng then approached Aluel's parents and discussed the terms. It was agreed that the man would marry Aluel and give her parents 150 cows as bride price. After the agreement, Deng returned to Australia, as he and a delighted Aluel set on planning their wedding.
Rich man comes along
However, after Aluel's engagement to Deng last year, a rich and older Sudanese with three wives already approached Aluel's parents, expressing interest in marrying her, and they reached an agreement.
"It is a common practice in South Sudan. You can be engaged to someone then a rich old man shows up and your parents force you to marry him because he has more money," notes a family member who did not want to be named, citing security fears.
According to the relative, the old man Aluel is being forced to marry is rich and powerful, so identifying himself puts him at risk in case he returns to South Sudan.
When Aluel's parents asked her to marry the old man, she called her fiancé, who then sent her money for airfare and a visa to Kenya. He advised Aluel to stay with his relatives in the city's Embakasi, where he thought she would be safe until he came for her.
"The fiancé informed Aluel's parents that she was in Nairobi, so that they would not be worried," another relative notes.
However, Deng, the fiancé, did not realise he was making a mistake when he informed the girl's parents that she was safe. According to the relatives, when Aluel's parents found out where she was, they informed the man they want to marry her off to. The man, a powerful figure in Sudan, obtained an executive order and an Interpol warrant of arrest, in order to forcibly have Aluel deported to Juba.
Kidnapping allegations
On Saturday evening, at around six, Interpol officers arrived at the Embakasi house where Aluel was staying and arrested her. They accused the relative she was living with of kidnapping her.
"They told me they are detaining me for being kidnapped," Aluel narrated to Metropolitan, crying, just before she was deported. Aluel's relatives say they wonder why Interpol went ahead and arrested her if she had been kidnapped as they claim.
"Aluel's mother pleaded with us not to allow her to return to Juba but it seems her father is colluding with the old man and Interpol, because he was with the Interpol," her relatives say.
The relatives say they fear for her safety in South Sudan.
"We fear that she might harm herself rather than marry the old man, or she might be whipped to death because that is usually the punishment for running away from marriage."
Deng says he fears Aluel may be physically assaulted.
Aluel's family had sought the help of human rights lawyer Harun Ndubi in preventing her deportation, but he was unsuccessful. According to the relatives, officers at Embakasi Police Station told them they were powerless because they were only holding Aluel on behalf of Interpol.
However, Ndubi says there is still some hope for Aluel.
"I will liaise with the family to see what we can do."
Related Topics