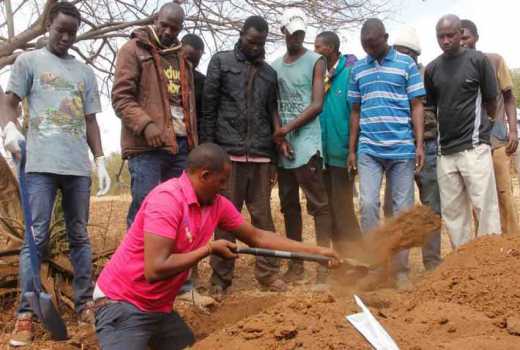 A preliminary post-mortem examination on the body of a five-year-old boy who died after he was allegedly knocked down by a car has revealed that he had injuries on the head and ribs.
The examination was conducted yesterday by Government Pathologist Titus Ngulungu at Athinai in Mogotio after the body was exhumed.
Eldama Ravine Senior Resident Magistrate Judicaster Nthuku had directed Mogotio Directorate of Criminal Investigations Officer Otieno Nyamburu to supervise the exhumation of the body and ensure that a post-mortem was conducted at a Level Five hospital mortuary.
Cause of death
Nyamburu said the report would be presented to the court on Monday and was expected to determine the cause of death.
"I came to supervise the exhumation and postmortem, the according to court orders," Nyamburu told The Standard.
Rajab Ruto, the father of the boy, said Dr Ngulungu told him that his son, Biron Kinda, was injured on the ribs and head.
The family had alleged that the boy was knocked down by a vehicle driven by Meshack Kipkoech near Mogotio town on the Nakuru-Marigat road on December 25, 2017, and died while undergoing treatment at the Rift Valley Provincial General Hospital.
Kipkoech was arrested for driving under the influence of alcohol, but police did not file any charges against him after the child's death.
He was presented at Eldama Ravine court and released on a bond of Sh200,000 or a cash bail of Sh100,000 bond pending full investigations.
The findings
Dr Ngulungu declined to share the findings of the postmortem with the media, saying it would breach client-doctor confidentiality.
He said he would write a report and hand a copy to the police and the parents of the child.
Related Topics