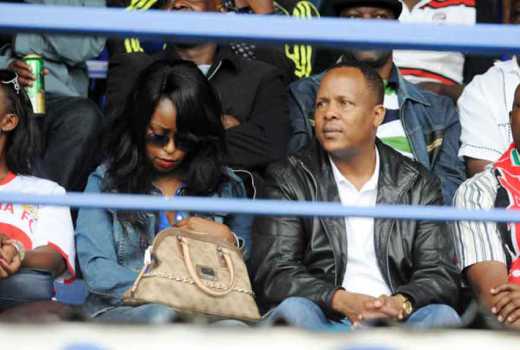 Fetching and sassy Citizen TV prime time anchor, Lilian Muli, who divorced her husband two years ago, is pregnant and The Nairobian can now reveal the man who put her in the family way.
Flamboyant football administrator Jared Nevaton is Lilian's baby daddy which puts to rest speculations on social media where fellow television anchor Jeff Koinange was asked whether he's responsible for Lilian's protruding belly.
Jeff, who is married and is father of one son, dismissed the rumours with an elongated expletive on his Twitter handle.
Nevaton, the loaded head honcho of Kisii based soccer side, Shabana FC and Lilian have had a steamy affair for more than two years, but kept their relationship status under wraps.
It is now evident Nevaton is the jogoo who took over after Moses Njuguna Kanene, Lilian's estranged hubby, was kicked to the pavement following allegations of "adultery, cruelty and desertion" in a divorce case filed at the Milimani Courts on January 7, 2016.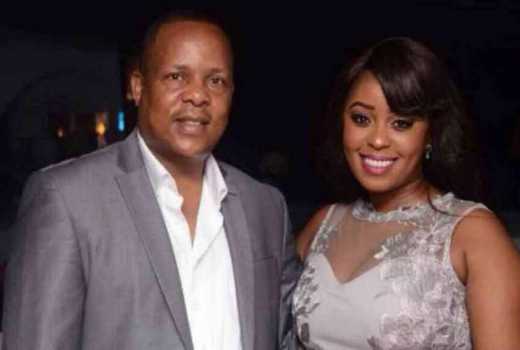 Nevaton is currently abroad and when contacted by The Nairobian, he angrily retorted: "What sort of nonsense is that? Don't ask me stupid questions," he hissed before disconnecting the call.
But he later came to his fatherly senses and called back a few minutes later. Calm, collected and in more friendly tone, Nevaton owned up to being the bloke in Lilian's life.
When the question was repeated: "Are you still with Lilian Muli and is her pregnancy yours?" Nevaton responded, "Why are you asking me questions about my life? We are very together (sic). This is very personal information."
When pressed if he's the bull responsible, Nevaton said, "Yes. When your wife gets pregnant does one ask who the father is? We are very together (sic). This is very personal information. I am out of the country in London but let's have lunch when I come back."
He however requested that we keep "things very personal, saying, "I don't think my personal life should be in public domain."
Lilian and Nevaton began dating after filing for her divorce in 2016, seven years after her profile pink and white society wedding in which her white vintage bridal car was followed by a convoy of six E-class Mercedes Benzes to the Windsor Golf and Country Club in Ridgeways, Nairobi.
Lilian filed for divorce at the Chief Magistrate's Court at Milimani Nairobi in Divorce Cause No 19 of 2016 in which she claimed her husband was adulterous, having cheated on her with several women before deserting her. She also claimed Kanene was a man of unpredictable moods, ungovernable temper and violent in nature, thus making her life in the marriage to be shrouded in fear.
In her verifying affidavit signed in Kiambu County, Lilian, now 36, humbly prayed the court that "the said marriage with the respondent be hereby dissolved" and the cost of the petition paid by the respondent (Kanene).
The couple had a six year old son.
Lilian said in her petition that in their troubled and turbulent marriage, Kanene had on numerous occasions treated her with utmost cruelty, and deserted her to live with unknown woman or women in Kiambu County.
"To compound the said cruelty, the respondent deserted the matrimonial home, and has been living an adulterous life and committing adultery with various women and the marriage has irretrievably broken down."
Related Topics