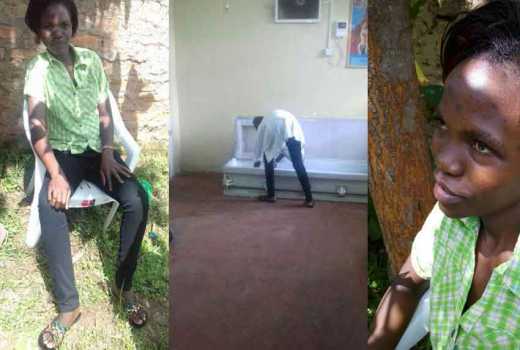 Meet 26-year-old female mortician, Alice Awuor Omito (pictured) who dropped a nursing course to be a morgue attendant, for fear of joblessness, a decision she says she does not regret.
"I was a nursing student but dropped because I feared unemployment," Awuor said.
The bubbly woman says she enjoys spending time with the dead, adding that she cannot stay away from them even for a single day.
"Even if I get a job as Migori Governor, I will decline it unless I am offered a job at a bigger morgue," she told The Nairobian.
The mortician says the dead are still people who should be treated with respect, explaining that she greets the corpses preserves every morning and cleans them. She airs the sheets of wet bodies to keep them warm.
Unlike popular belief, Awuor does not need hard drugs to interact freely with the dead.
Awuor who hails from Gem Asumbi in Homa Bay County, says that getting along with the dead was only challenging on day one at work, but she adapted quite fast and she is now very comfortable. Unlike the sick or the living, she says it is much easier to deal with the dead something she explains motivates her to go to work.
"The dead do not disturb anyone, you place them in a certain position and you find them in the same position. They do not harass nor complain; besides, my working environment is very peaceful too," she added.
Just like any other job, she notes, there have been a few challenges, both at work and with her family.
"For instance, sometimes people approach me for the water I have used to wash a dead body or the rope that a deceased may have used to commit suicide. Other times, family members insult me, claiming I have not preserved their kin well," she says.
Awuor who is a mother of a six-year-old boy said the father of her son bailed out on them when he learned of her job.
"We dated for three years, got a child but he left me when he found out what I do for a living. I have dated a few times, but they always bail out," she said, adding that she has no intentions of getting married.
Related Topics