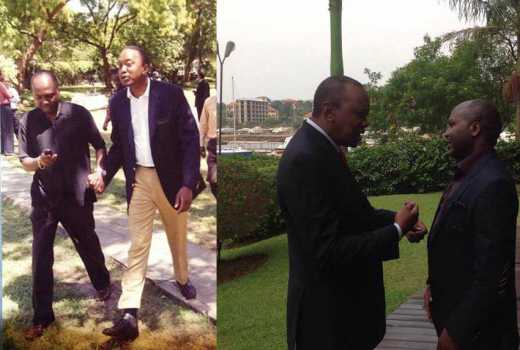 Flamboyant lawyer Donald Kipkorir has penned a strongly worded letter to President Uhuru Kenyatta lecturing him on constitutional order and 'dictatorial tendencies.'
Posting an undated photo where he is seen hanging out with Uhuru, Kipkorir stated that the president's legacy was hanging on a tight rope if he continues on the trajectory to stifle rights and constitutionalism in the country.
Kipkorir said that the two of them 'wametoka mbali' and that it was too late for Uhuru to be a benevolent dictator.
"What is being done harassing Opposition leaders is pyrrhic. It is an empty exercise. No High Court Judge will allow it. The High Court will countermand all the harassment. Your Minister for Internal Security is over excited. But again, if he takes time to read books of History and Politics, he will know that his actions are futile and one day, he will be held accountable" wrote Kipkorir
He added that the remaining four years of Uhuru's presidency was too short to industrialize Kenya and he will probably leave his office come 2022 with the country worse off or slightly better.
"Your advisers, may not be students of History and Politics. If they were, they will tell you that for the Four Years, the lasting legacy you can leave is solid Constitutional Order. Let the full implementation of our Constitution be what you bequeath the next Government."
Kipkorir reiterated to Uhuru that 'Africa has never had a benevolent Dictator except for Thomas Sankara and Paul Kagame.'
His comments come amidst a major crackdown by the government on the National Super Alliance (NASA) politicians and the media over the 'swearing in' of Opposition leader Raila Odinga at Uhuru Park on the 30th of January.
Kenyans have for the better of today, Tuesday, been calling out for the immediate release of National Resistance Movement's (NRM) self-proclaimed General Miguna Miguna from police custody.
Miguna was arrested last Friday during a police raid at his Runda home and taken to Githunguri Police Station in Kiambu County over his role in the 'swearing in.'
He was today arraigned at a Kajiado court and refused to take plea.
Related Topics