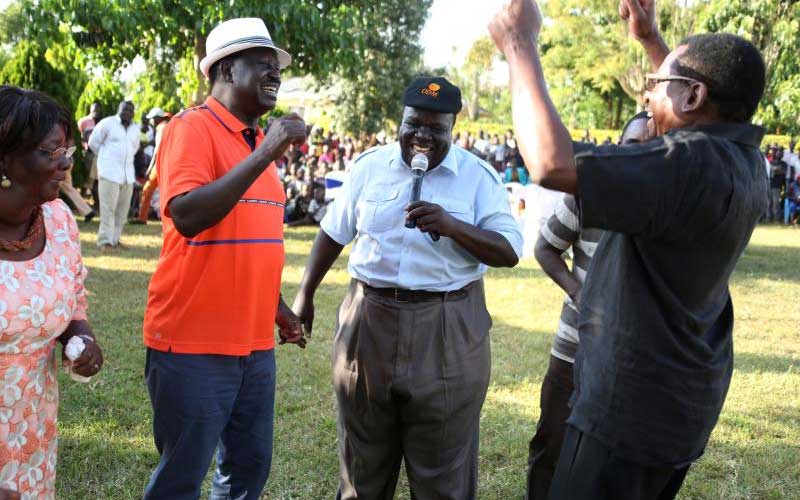 Clip appears to show an excited NASA leader telling guests they would reach Canaan
Gem MP Elisha Odhiambo has denied claims he is the one who shared footage on social media
[email protected]
A leaked video of Opposition leader Raila Odinga wearing a Father Christmas hat and making merry at a private party has stirred controversy among his supporters.
In the one-minute-and-six-seconds amateur video shot at businessman Billy Okwiri's home in Sinaga, Gem constituency on Christmas Eve, Raila is seen with a bottle of wine on his table as he assures those in attendance of "NASA's (National Super Alliance) journey to Canaan".
Causing anxiety
The video has been doing rounds on social media and triggered anxiety among Raila's close allies as to who might have leaked the clip.
Yesterday, Gem MP Elisha Odhiambo, who was accused of circulating the video, dismissed the claims, saying it was the work of his political enemies.
"It's rubbish. It's a lie. I cannot do anything like that. It's the work of my detractors and Jakom (Raila) is aware about it," Mr Odhiambo told The Standard. "Raila knows what is happening and I hope this unfortunate matter will come to an end this evening."
A renowned blogger took to his Facebook page soon after the video hit the internet, claiming it was the legislator who had secretly filmed the former premier as he spoke at the private party.
The debate spread like bush fire on social media, with WhatsApp groups, especially those for people in Siaya County, debating it for hours on end.
"This is unfortunate. These political rivalries in Gem are taking dangerous angles. I think these antagonists need some time to dialogue," said one member of a WhatsApp group
Another contributor, Chris Dondo, said: "What has happened is treason (sic)."
In the video, Odhiambo, Raila, and the host are seated on a sofa wearing Santa hats.
Other guests, whose faces are hidden from the camera, are seated on the opposite sofa with a bottle of whiskey on their table.
The video appears to start with Raila speaking on his determination to lead Kenyans to the 'promised land' by taking an oath as the people's president.
Having faith
"I am going to tell you when we will take this oath. You must have faith that the Israelites will reach Canaan," Raila appears to say.
Raila spent most of Christmas Day attending church and visiting friends and relatives.
The video then shows Raila asking other guests to rise as he proposes a toast.
"I propose a toast for our triumphant entry into Canaan," he says as he raises his wine glass amid a chorus of "cheers!"
"We are going to reach Canaan, wapende wasipende."
Also seen partly in the video is former Gem MP Joe Donde, who is also the Siaya County Public Service Board chairman.
Raila's visit to his native Siaya County over Christmas has had some drama. On Christmas Day, an elderly churchgoer tried to convince him to take an oath as the people's president.
Related Topics