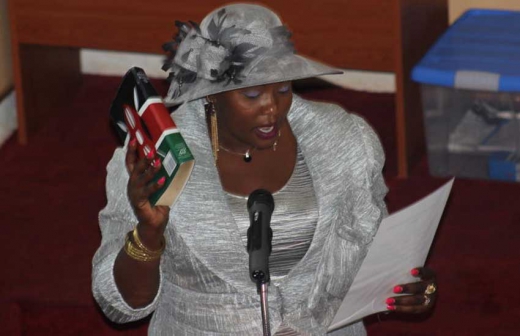 Nude photos of an MCA who is the daughter of an archbishop's are doing rounds on social media
She is the talk of town over the nude photos in which she is broadly smiling at the camera
The MCA however claimed that the leaked photos were Photo-shopped
The nude photos of Machakos MCA and daughter of an archbishop have been doing rounds on social media where she's seen striking poses in different positions inside a house.
Betty Nzioka Nzisa, the daughter of African Brotherhood Church archbishop represents the Masii/Vyulya ward in Mwala constituency, Machakos County where she has been the talk of town for the photos in which she's broadly smiling at the camera.
Nzisa told The Nairobian that the leaked photos were Photo-shopped by political opponents who did not want to see her win the seat.
"One of the people that competed against me for the seat Photo-shopped my photos," she claimed, adding that she earlier received messages from the man saying he could Photoshop the photos.
"I have the messages he sent me and I have kept them. In the messages, he said that I can also Photoshop his photos if I wished. " However, she did not disclose the name of the said opponent.
Nzisa who was sworn in on September 7, 2017, said that she does not care if the photos are published in the media as they have been in many WhatsApp forums already and they were also "used during campaigns and were even printed and posted in my ward prior to the General Election."
Related Topics