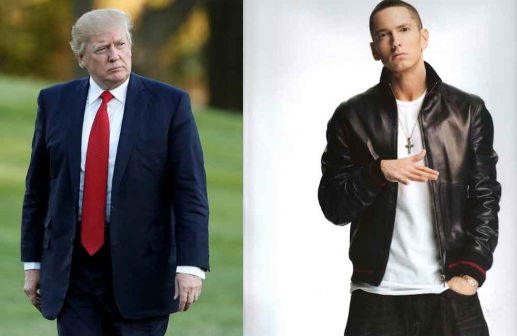 US rapper Eminem has slammed Donald Trump in a blistering rap
Eminem in an explicit four and a half minute described the president as a "kamikaze"
He claimed that Trump will probably cause a nuclear holocaust
Eminem has slammed Donald Trump in a blistering rap while hitting out at his own fans who support the US president.
The rapper has made a series of personal attacks on Trump, as well as angrily criticising his political decisions.
During the explicit four and a half minute rap the Stan singer describes the president as a "kamikaze that will probably cause a nuclear holocaust".
Eminem performed part of the rap at the BET Hip Hop Awards and has since released the full clip, which shows him performing in a multi-storey car park.
The rap includes a number of scathing criticisms, including the line: "Racism is the only thing he's fantastic for. Cause that's how he gets his f****** rocks off and he's orange."
He also slams the politician's lavish lifestyle, saying: "He says he wants to lower our taxes but who's going to pay for his extravagant trips back and forth to his golf resorts and his mansions?"
He accuses Donald Trump of using some issues, such as his criticism of the NFL, as a distraction from more urgent and serious problems in other parts of the world.
During the rap he also gives his fans an ultimatum and tells them they must choose between him and the president.
Looking emotional and extremely angry, he says: "Any fan of mine who is a supporter of his I'm drawing in the sand a line - you're either for or against.
"And if you can't decide who you like more and you're split as to who you stand beside I'll do it for you with this."
He then sticks his middle finger up at the camera and swears.
Related Topics