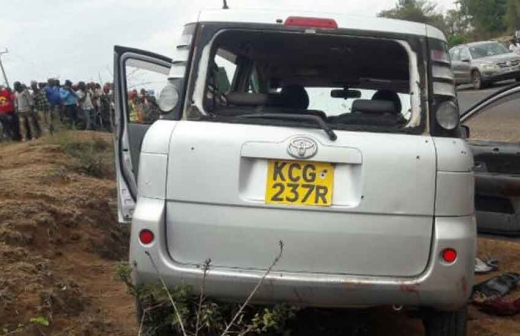 Seven Gaza members were shot dead by police in Makutano
in Kirinyaga County
The men were said to have driven from Kayole and were heading to Mwea on a 'mission'
Police recovered an assortment of arms and ammunition from the slain gangsters
Seven suspected thugs were yesterday shot dead by police following a dramatic car chase around the Makutano-Mwea junction in Kirinyaga County.
The suspects, who were packed inside a small car, were said to have been part of a gang that shot dead two police officers in Githunguri, Kiambu, County, a month ago.
The seven are believed to be members of the outlawed Gaza gang that operates in Nairobi's Eastlands and were on a mission to commit a felony in Rukanga on the Makutano-Sagana highway.
Police officers involved in the operation said the young men had driven from Kayole.
According to Mwea West OCPD Samuel Seurey, the suspects started to drive at high speed on realising police were pursuing them on the busy highway.
"The Flying Squad vehicle was faster than the Toyota Sienta the suspects were using and after overtaking them, the police vehicle blocked the road. The gangsters then started firing at the officers," said Johana Kariuki, who witnessed the afternoon incident.
The police however managed to shoot the seven dead because the gangsters had no way of escaping from the cramped interior of their car.
Deadly weapons
Police recovered an assortment of arms and ammunition from the slain gangsters, some of which were believed to have been used in the Githunguri attack.
Among these was an AK-47 rifle and two pistols as well as hundreds of rounds of ammunition.
Police also recovered several mobile phone handsets, which they said would assist them in investigating whether there were more members of the gang still roaming free somewhere.
Mr Seurey said the gangsters were on an undisclosed criminal mission in Kirinyaga, Nyeri or elsewhere in Mt Kenya region, "but thank God our brave officers were able to stop it".
A major traffic snarl-up followed the incident as motorists stopped to catch a glimpse of the bloody scene. The bodies of the hefty suspects lay on the roadside.
The identity of the suspects was yet to be established by the time of going to press but fingerprint experts were expected at the scene before the bodies could be moved to the mortuary.
Junior members
Police said the slain men were junior members of a squad under slain suspect Michael Mwaniki alias Mwanii, who was known for terrorising Kayole, Dandora and Mowlem residents.
Mwanii was killed in August together with another suspect identified only as Willy. They were felled after being trailed by officers from Nairobi following a botched robbery in Kayole.
Mwanii was buried in Murang'a County last week.
Police said Mwanii was the husband of slain female gangster Clea Adi Vybz aka Clair Njoki who was killed in a police ambush in Kayole in May.
According to police, Mwanii was the ringleader of the group that has been blamed for killing police in Kayole, Dandora and Utawala as well as other criminal activities.
Mwanii had been on the run from police for almost five months.
The deaths of the seven gangters were celebrated on social media groups 'Dandora Crime Free' and 'Dandora Love People.'
Related Topics