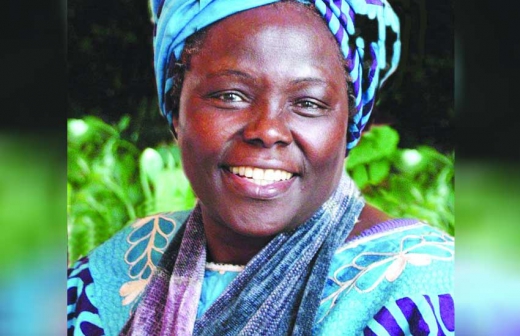 Prof Wangari Maathai was born in Ihithe village, Nyeri on April Fool's Day, 1940
She was a lady of many firsts includig being the first East and Central African woman to earn a doctorate in biological sciences in 1971 and Kenya's first woman professor
Wangari earned her stripes campaigning against the destruction of the environment and with it the 2004 Nobel Peace Prize
She is among the only three women to have ever gunned for the presidency in Kenya - there were no women in this year's election vying for the position.
Prof Wangari Muta Maathai vied for presidency in the 1997 General Election on a Liberal Party of Kenya ticket.
The other women to have ever attempted this among 15 other candidates were Charity Ngilu of Social Democratic Party and Martha Karua of Narc-Kenya.
The victory went to retired President Daniel arap Moi who had been at loggerheads with the internationally-acclaimed environmentalist over the erection of a 60-storey skyscraper at Uhuru Park.
She earned her stripes campaigning against fraudulent allocation of gazetted land, notably Karura Forest in Nairobi.
She would later join active politics as the MP for Tetu and assistant minister for Environment and Natural Resources in 2003.
The woman after whom Forest Road in Nairobi was renamed became Africa's only woman Nobel laureate after winning the 2004 Nobel Peace Prize "for her contribution to sustainable development, democracy and peace."
The recipient of the 2006 Indira Gandhi Peace Prize was a woman of many firsts: The first East and Central African woman to earn a doctorate in biological sciences in 1971 and Kenya's first woman professor.
Maathai had been lucky. She attended St Cecilia Intermediate Primary, a boarding school at the height of Kenya's State of Emergency in 1952.
Missionary schools, including the Mathari Catholic Mission which she also attended, did not suffer colonial purges that saw countless miss education in Central Kenya where Wangari was born in Ihithe village, Nyeri on April Fool's Day, 1940.
She attended Loreto High School in Limuru enroute to America's St Mount Scholastica (Bsc, biology) in Kansas, and the University of Pittsburg (MA, biology) as a beneficiary of the American student Air Lifts and later the University of Nairobi (PhD, veterinary anatomy).
She met Mwangi Mathai, the other Air Lift beneficiary and future MP for Lang'ata in 1966. They married three years later and had three children; Waweru, Wanjira and Muta. But Mwangi filed for divorce from Wangari who was "too educated, too strong, too successful, too stubborn and too hard to control."
In her 2006 bio Unbowed: A Memoir, she recalls the caked proceedings of her 1979 divorce case thus: "With every court proceeding, I felt stripped naked before my children, family and friends. It was cruel, cruel punishment."
It was after the divorce that she added the 'a' in her name instead of expunging it. She had earlier dropped English names 'Mary Jo'.
It was founding the Greenbelt Movement in 1977 that her contribution to humanity would be etched on trees, resulting in over 30 million planted in her lifetime.
The grassroots movement that aimed at countering deforestation that was then threatening subsistence agriculture, morphed into sustainable development, democracy, women's rights, and international solidarity. In the words of the Nobel Committee: "She thinks globally and acts locally."
Time magazine's Hero of the Planet Award winner succumbed to ovarian cancer on September 25, 2011 at 71.
Her remains were cremated at the Kariokor Crematorium according to her wishes. Her ashes were interred at University of Nairobi's Wangari Maathai Institute for Peace and Environmental Studies.
Related Topics