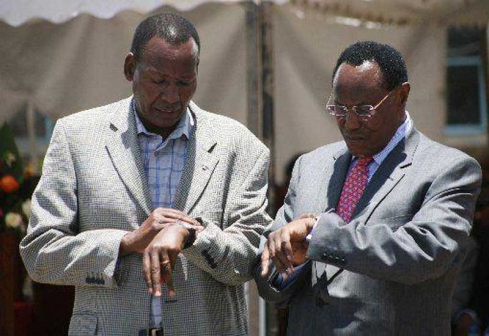 Kenyans woke up to the sad news of the passing of the country's Internal Security Cabinet Secretary, Hon Joseph Nkaisssery. Hon Nkaisserry is reported to have died a few hours after he was admitted for medical check-up at the Karen Hospital.
Until his demise, Nkaissery was the Cabinet Secretary of Internal Security, a post he rose to in 2014 following the dismissal of the then Interior Cabinet Secretary, Ole Lenku.
Hon Nkaissery's passing spells doom to the people of Kenya as it is in this same capacity that the country lost Prof. George Saitoti as the Minister of Internal Security. Prof Saitoti perished in a plane crash together with his Assistant Minster in the Ministry of Internal Security, Hon Orwa Ojode.
Just like Hon Nkaiserry, Prof Saitoti was from the Maasai community.
The Interior Ministry has synonymously been headed by leaders from the Maa community. Among them, the late Hon. Nkaissery and Hon. Ole Lenku both who served in the post under the government of President Uhuru Kenyatta; Hon. Ole Metito and Prof Saitoti who served as Ministers of Internal Security in the Kibaki government.
This indeed is a sad time for the country as Kenya mourns the Retired Major General, sombreness that reminds the nation of the great leaders it has lost.
Related Topics