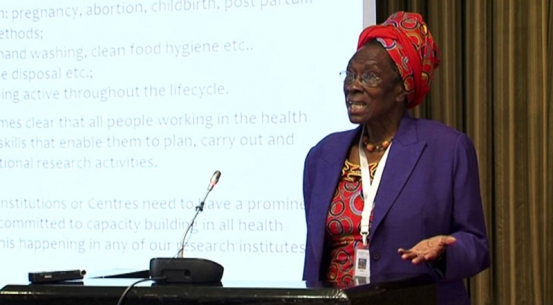 Prof Miriam Were was awarded the 2007 Queen Elizabeth II Gold Medal for 'outstanding contribution to international public health and the health needs of disadvantaged people' in the entire Commonwealth.
Prof Miriam Khamadi Were, the one-time Chancellor of Moi University, was also the first recipient of the 2006 Hideyo Noguchi African Prize that honours exceptional individuals in medical research and services.
Prof Were has devoted her life to public health, yet her plans in life were different.
The alumnus of William Penn University in Iowa, USA (BA, Natural Sciences, Class of '64), was a biology and chemistry teacher with a post graduate diploma in education from Uganda's Makerere University where the 26 year old graduated in 1966, the year she married agriculturist Humphrey R Were.
But sick students and shortages of doctors after uhuru saw her change course in 1968. She enrolled at the University of Nairobi, School of Medicine, graduating in 1973 as the best all round medical student. The poet and author of four novels, joined the Division of Communicable Diseases at the Ministry of Health where she developed Kenya's Integrated Leprosy-TB Control Programme in 1974, besides lecturing at the University of Nairobi's Faculty of Medicine.
She rose to head of Department of Public Health while serving a six year stint as national director of Community Based Health Care starting with a pilot project in Kakamega from 1976. Her efforts led to the adoption of Primary Health Care as a strategy for which she received the 1978 UNICEF Maurice Pate Award, the first time it came to Africa.
Prof Were earned her Masters and PhD degrees in Public Health and Management, from Johns Hopkins University, USA where she received the George P Tolbert Health Prize for her 'contribution to international public health' during her PhD studies in 1981.
Prof Were left the University of Nairobi in 1985 for stints with UNICEF (senior adviser, health and nutrition), United Nations Population Fund (country director, Ethiopia), and the WHO (Chief of Mission, Ethiopia), besides sitting on the boards of Uzima Foundation, Amref and Global Health Workforce Alliance.
The chair of the National Aids Control Council since 2003 has been honoured with the 2000 International Order of Merit (IOM), 2005 Elder of the Order of the Burning Spear (Kenya), the 2006 Medal of the Italian Cabinet, the 2008 Legion of Honour (France) and the 2015 Distinguished Career Award from William Penn University, USA.
Related Topics