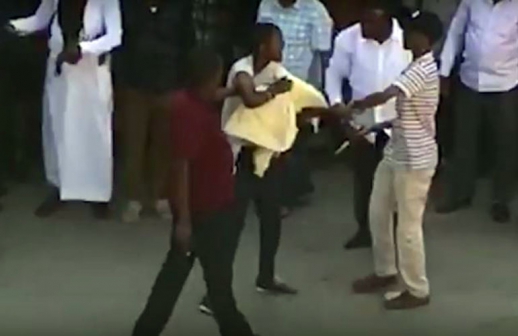 The father of one of the two men who were killed by police in Eastleigh has admitted that his son was a petty thief. Mr Dahir Robe, who spoke in Nairobi, said his 16-year-old son, Mohamed Khadir, was engaged in petty criminal activities and that his days were numbered. Robe also pleaded with the authorities to release his son's body for burial.
"He never used to carry a knife or a gun loaded with bullets. But yes, he was a petty thief, a pickpocket. I am pleading with the Government to surrender his body to us for burial according to Islamic practice," he said at his house. Khadir's accomplice has yet to be identified. Police said the bodies were still being held at the City Mortuary for postmortem. Khadir's dramatic end was captured in a video clip showing a plainclothes police officer shooting him in public as he lay on the ground along First Avenue in Eastleigh on Friday.
He and his accomplices had been involved in a violent robbery along Third Avenue, which prompted a chase. Police say the two were members of the proscribed Superpower group that operates in Eastleigh. The group is composed of youths, mostly school dropouts, most of whom are armed with guns and knives.
The shooting is still a talking point in the country. While some traders came out strongly to defend the police for what they termed as maintaining law and order, others castigated the law enforcers' actions, terming them extra-judicial killings. Bedan Kamau, a wholesale suitcase retailer in the Eastleigh business hub, defended the police saying it was impossible to conduct business without security.
"The police were doing their work by maintaining security, which is crucial especially in this business area. They should, however, not have killed them in public," said Kamau.
He said criminals have been to his shop several times to demand money.
"The criminals are part of a gang of teenagers aged between 15 and 22 years that terrorises residents and they are usually armed with knives," said Kamau.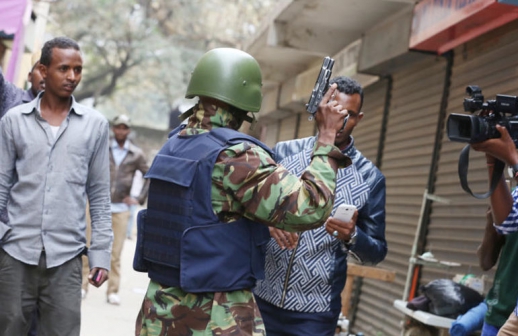 The businessman said the criminals were known individuals who usually walked around demanding cash from traders and customers. They usually target Somali traders. Ahmed Mohamed, a shoe stall owner, condemned the killings, saying that they contradicted the law.
"What is the work of the office of the DPP, police, and the Judiciary? They should have arrested the suspects, who were unarmed, and after conducting investigations taken them to court, not killed them in such an inhumane manner," said Mohammed. The trader, who witnessed the shooting, said that one of the suspects tried pleading with the officer not to kill him but he did it anyway.
"After the second suspect saw his colleague murdered, he pleaded with the officer to arrest him and take him to Pangani police station but the officer told him that his days were over and that's when he shot him," he said.
Anne Wanjira, a mobile money agent, supported the killings, saying she had been a victim of armed robbery.
"Unless you have been robbed at gunpoint then you cannot know the pain and agony that one goes through so we should stop blaming the police," she said.
Related Topics