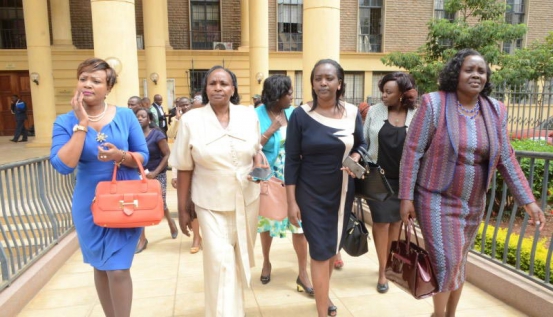 A female senator arrested for drink-driving and locked up in a cell. A woman senator fights with housegirl. A blogger leaks photos of a woman MP and a male senator in bed. A woman MP pours water on the Deputy Speaker Joyce Laboso. A woman MP removes her panties and waves them in the air. A woman MP and a male MP fight in the village over a microphone; a woman senator groped by a horde of male senators at a party in Mombasa; a woman MP complains of sexual harassment by a male colleague at a hotel in Tokyo, but one of her colleagues asks, 'What was she doing in a bar at that hour'; a woman MP insults the president, calls him fisi... these have been some of the headlines that have come out of the not-so-august House.
In public, the questions have been: what do the 47 women elected in each county do in the National Assembly? Or what's the role of the 20 nominated women in the Senate, who can't even vote on crucial issues that affect counties? Put another way, do these women who got into Parliament as a result of clauses to promote affirmative action add any value to the Legislature?
With renewed debate about representation, the wage bill and a failed referendum move to scrap the seats of the women representatives, and even those of the nominated senators, an audit of the tenure of the current women in Parliament is timely.
In a bicameral parliament of 418 members, there are 88 women lawmakers. The generic job description for MPs is legislation, representation and oversight. The legislation is usually collegial but driven by an individual MP; oversight is done through the committees and representation is done individually, as each of the MPs pushes for issues that affect their respective constituencies.
In terms of lawmaking, which is easily the most crucial function of the Legislature as a whole, the House records show that out of the 88 women MPs in the House, only 18 have filed Bills in the life of the 11th Parliament. It is this delivery that partly frustrated the push for the two-thirds gender rule, that in fact the MPs have insisted that it should be implemented "progressively".
While legislation alone cannot gauge the quality of an MP, it is a crucial mark of performance – if an MP can sponsor a Bill through Parliament, it means they are actively engaged in the other roles. It means they have the networks to lobby their colleagues, and government, and in effect that means, when it comes to issues affecting their constituents, the same skill-set helps them execute the representation mandate.
There are 68 women MPs in the National Assembly – 16 elected in constituencies, five nominated by political parties, and 47 women elected to represent each county. In the Senate, there are 20 women, but so far, eight women senators have filed Bills.
Out of a total of 169 Bills that have been filed in the National Assembly, only 11 were sponsored by women MPs, even though some crucial Bills on environment and wildlife protection, which came from the national government, were shepherded through the House by Amina Abdalla (nominated) one of the indefatigable women lawmakers. Though her name is not on any of the Bills, her contribution, according to the Hansard is evident, and dwarfs the records of many of her male colleagues in depth.
The women MPs whose quality contributions in the National Assembly is recorded partly because of the Bills they sponsored include Millie Mabona (Mbita), Wanjiku Muhia (Nyandarua), Cecilia Ng'etich (Bomet), Priscilla Nyokabi (Nyeri), Rachael Nyamai (Kitui South), Florence Mutua (Busia), and Gladys Wanga (Homa Bay).
To date, only these eight women lawmakers and Amina (who heads the crucial committee on Environment and Natural Resources), can stand tall and point at the contributions they made in the first legislature under the nearly seven-year-old Constitution.
In the Senate, with a total of 69 Bills in five years, only ten came from women senators. They are Martha Wangari, Agnes Zani, Judith Sijeny, Naisula Lesuuda, Beatrice Elachi, Joy Gwendo, Zipporah Kittony, Fatuma Dullo, Halima Abdile, and Elizabeth Ongoro.
Of these, only eight had the staying power to see their Bills go beyond the Senate. Most of these Bills are stuck in the National Assembly.
Today, one of the nominated senators Martha Wangari, under whose name, there are at least four Bills which were published, and three which are awaiting a decision from the National Assembly, will be launching her bid to join the National Assembly as an MP for Gilgil Constituency after the elections.
Looking back at her tenure, she says, she did her best.
"I wouldn't say I have been 100% as a senator but I am sure in my duties of representation, legislation and oversight I have performed above average..." Martha said in her invitation message to her supporters for her bid launch at Laico Regency Hotel.
Related Topics