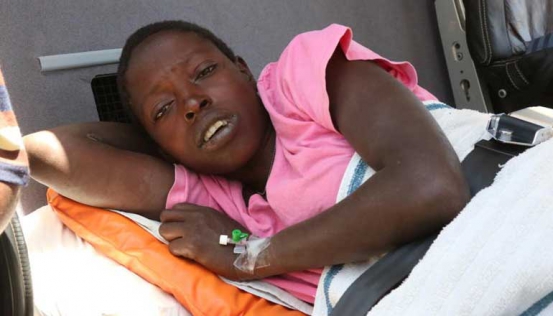 Deputy President William Ruto yesterday surrendered his helicopter to take a pregnant woman and her two children who had been shot by bandits to hospital.
Ruto was attending a security meeting in north west Laikipia when he was informed that Rose Kuraru, 25, and her children, Lodumu Kuraru, 8, and Salim Kuraru, 5, were attacked by bandits on Monday night at their home in El Al Jijo in Laikipia North sub-county.
Her husband escaped. The attackers, believed to be from the neighbouring Isiolo County, then sprayed the woman and her children with bullets.
According to Mukogodo East MCA Paul Shuel, the incident occurred at around 8.30pm when the family was preparing to have dinner.
"The gang arrived, forced their way into the family's house but the husband was able to hold the muzzle of the rifle, and wrestle with the attackers before he escaped," Shuel said.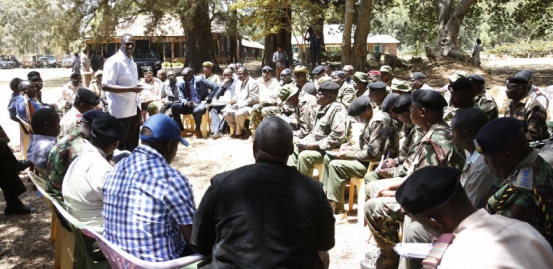 But his family was not lucky. "The mother suffered a fractured foot while one boy was shot in the chest with the bullet exiting in the back. The other child suffered a foot injury," said Shuel.
The three were taken to Nanyuki Cottage Hospital.
They were to be referred to Consolata Mission Hospital in Nyeri when Ruto got wind of the incident as he chaired the security meeting.
He immediately released his helicopter, which he had used with his Director of Communications Emmanuel Talam, to pick the patients.
The DP's helicopter went to a Nanyuki airstrip where it picked the wounded woman and her children and headed to Nairobi.
To accommodate the patients, some seats were removed from the helicopter to create space for a stretcher where the mother lay.
"He (Ruto) was touched by the incident and since he was in Laikipia, he decided to offer his chopper to take the injured to hospital. It is a normal humanitarian and rescue intervention," said Mr Taalam.
Talam further said the DP ordered the three patients be taken to Nairobi Hospital.
He said the Government, through the office of the DP, will foot hospital bills for the three.
Condemning the attack, the DP said the sanctity of life must be protected.
In addition, he said those who have invaded ranches, shot owners dead, stolen animals and torched property will face the law.
"It is sad that innocent people are being killed," said Ruto.
The DP, at the same time, unveiled 200 newly recruited police reservists to help contain the insecurity in the area.
Ruto also said the Government targets to recruit 1,300 police reservists along Kerio Valley to help security officers in the fight against banditry and cattle-rustling activities.
The DP said in addition to the 1,380 security officers in the region, the Government would increase the number of General Service Unit officers and provide two armoured personnel carrier vehicles.
Related Topics