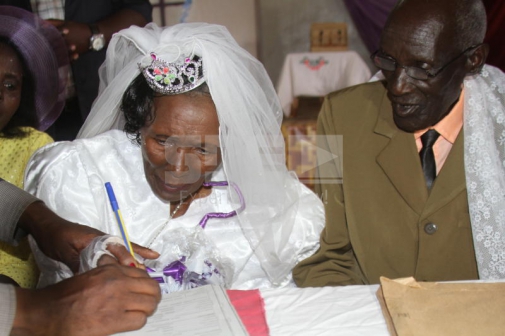 There was jubilation as an elderly couple exchanged vows on Saturday after more than six decades together in a colourful wedding at Baptist Church in Bahati, Nakuru County.
Willy Kinyua, 98, and Joyce Nyambura, 88, who have lived together for over 60 years and have five children tied, the knot in an elaborate ceremony attended by the clergy and church faithful.
The bride and bridegroom, both using walking sticks decorated with white and blue ribbons, walked slowly to the church together, accompanied by their maid of honour.
At the church, they sat at opposite sides and like new lovers were spotted stealing glances at each other as they waited to be introduced to the congregation. Nyambura was dressed in a white gown and white rubber shoes to make her movement swift.
With makeup, with manicured nails and purple lip stick Nyambura was a sight to behold.
A shiny tiara held her veil in place as she smiled shyly, waiting for her moment to say ' I do'.
Kinyua was dressed in greenish suit, orange shirt, black tie and black shoes.
He too was all smiles and could be spotted singing and dancing together with congregation.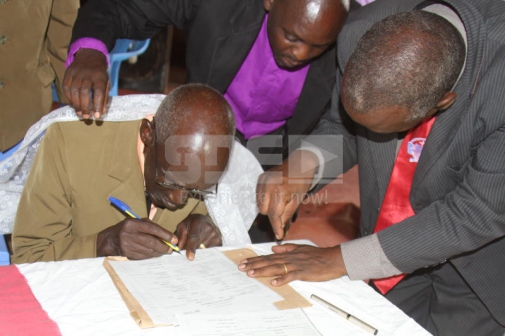 He stole glances at Nyambura as the couple waited to solemnise their union.
However, because of the old age, Nyambura sometimes dropped her belongings including gloves, grey clutch and tiara.
But her maid of honour was keen to ensure she enjoyed her day, and picked up the items.
The couple said they decided to tie the knot because of love and respect they have for each other.
Kinyua said he was among men who went to fight Mau Mau and despite having been in the bush for nine years, Nyambura did not cheat on him.
"I love Nyambura, she is a beautiful woman who has always been the source of my strength and encouragement. She has never cheated on me," he said.
He caused laughter when the clergy leading the programme asked him if he ever admired beauty of a herd of sheep and goat and reflect his wife in them.
He dismissed this, saying his wife was not an animal and was beautiful.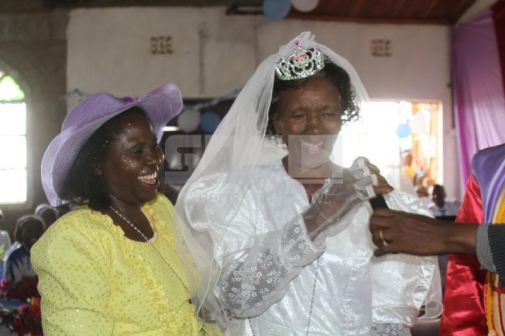 "My wife is not a goat or a sheep, I love her because she is so beautiful. Should I uncover her face for you to see?" he posed amid laughter from the crowd.
Nyambura said she was happy to celebrate her wedding as any woman wishes.
She said she loved Kinyua so much and that they have lived together in peace.
Nyambura said marriage is failing because majority of men decide to have extramarital affairs.
Simon Murage, the area assistant chief, said the old man approached and informed him about the plan.
Mr Murage established a committee that raised money for the wedding whose cost was Sh100,000.
To cut the cost of wedding, the committee used locally-available materials for example instead of using lilies and rose flowers for decoration, the couple used bogan flowers.
They also tied the vehicle with a manila paper where they wrote their names as number plates.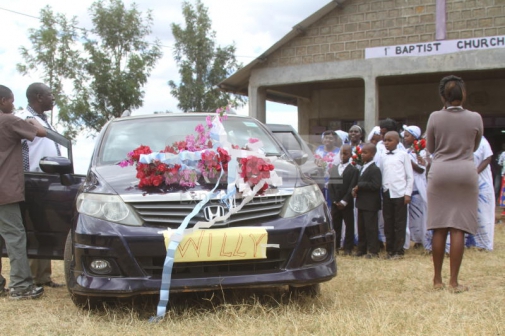 Related Topics