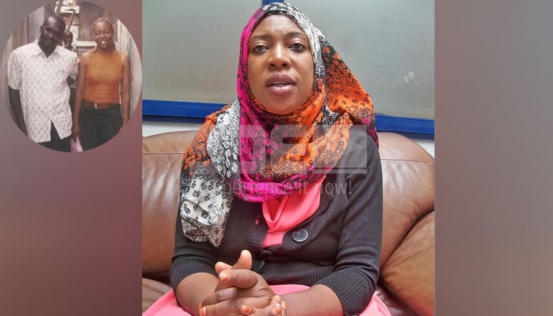 A Namibian woman is accusing one of Kenya's best police boxers of disappearing with more than Sh1 million of her inheritance.
Hawa Hangana claims Absolom Okinyi Okoth, a Kenyan 'Hit Squad' boxer nicknamed 'Diblo' and who is her husband, withdrew the money from her account after the death of her father in 2007.
Hawa, who has also filed a child support case against Diblo for failing to providing for the family for four years, told The Nairobian that, "I met Okinyi when I was still a student in Eastleigh and we fell in love. We later moved to the General Service Unit headquarters in Ruaraka, where we lived for a while and tied the knot in 2005."
Diblo, a Commonwealth Games silver medallist, has since left the GSU and is now with the CID. Diblo told The Nairobian that his wife was not being genuine, and that is why he filed for a divorce because "Hawa was unfaithful and frequently raised unnecessary complaints."
However, the mother of three claims their marriage was fine after the birth of their first born child, but things changed in 2008.
"When I noticed that he had a lot of money, which he was splashing indiscriminately, I became suspicious," narrates Hawa, who requested Diblo to assist in processing her travel documents as she had not been to Namibia since the death of her father in Windhoek.
"When my father died in 2007, some beneficiary forms were delivered via fax to GSU headquarters by my late sister and that is how he gave out his account number for the money to be wired. I did not follow up the matter since I was just a housewife and trusted him so much," said.
Hawa further claims that Diblo was "going around the camp telling everyone how my late father left behind a fortune for me but I was not that keen knowing that he will tell me once he receives the money."
Hawa says that on her arrival in Namibia, she was told that her inheritance had long been wired to her husband's account.
"I almost fainted when I found out that the money he had been splashing and using to shop for other women was inheritance left behind by my father," says Hawa, adding that Diblo hardly called her as was the case when she was away.
Upon her return to Kenya, Hawa reportedly confronted the former welterweight pugilist who allegedly lashed at her before "confessing that he was ready to pay back, but later changed his mind and said my father was corrupt and I would never get a penny of the money."
Hawa claims she got access to several emails indicating that Diblo posed as her to have the money transferred to his account. She claims he tricked the administrators of her father's estate that she planned to visit Namibia.
She accuses Diblo of physically abusing her when she discovered he had conned his way into her money. This is what reportedly led to their divorce and upkeep battle in 2010.
"It has been a long journey of assaults and injuries that made me contemplate suicide. I'm willing to go back home and even work as a street sweeper because I don't have blood relatives in Kenya," lamented Hawa, whose sworn affidavit in September 2010 reads in part: "...the respondent has totally failed and/or refused to clear maintenance arrears amounting to Sh342,000 for 57 months since he was ordered to pay on 24th November 2011."
The document further states that: "...the respondent is a police officer capable of paying if an enforcement order is issued against him."
Related Topics