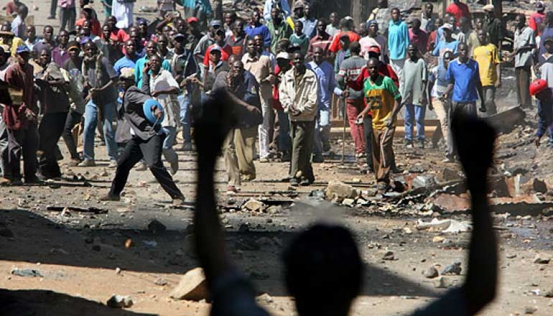 We first lived in Kawangware before moving to Buruburu estate Phase II.
My best friend in 'Ungwach' was an old homeless man who called me 'Mori' — he could not pronounce Bolingo.
He called my mother Nyina wa Mori, Kikuyu for 'Mama Mori.' Kawangware was a mixed community and when we moved to Buru II, we also found a mixed community.
Our most famous song was Baba Ichololo, meaning 'dad is coming' and was sang in the evening when your old guy returned home from work.
All the children sang this. We used to refer to polythene bags as juala, ants as thigiriri, beetles ding'oing'o, rubber band as bladder and a meal of maize and beans as githeri.
What am I getting at? For one, we never had tribal affiliations as children. In fact, most of us were forced to speak our mother tongue when we were older.
This was all the way even in our primary schools. We were only forced to learn tribes in geography classes that never bothered us.
By having such common words, we spoke Sheng - Kenya's street language - because the only tribes we knew were two, us the youth verses the others that included the teachers, parents and older folk.
Most born-city children rarely mingled with the rural-urban migrants. So things like 'shrubbing' and stereotyping was not there.
We didn't focus on tribes. We didn't have this nonsense of comedians having nothing to perform but insisting on tribal stereotyping.
Nobody 'shrubbed' — just the teachers — and we never even focused on that. Comedians like my great late uncle Joseph Anyonga 'Othorong'ong'o' did comedy based on talent and creative genius.
This tribalism thing has even made most comedians not to be creative. They focus on tired tribal jokes.
The sad thing is that when elections are near, that's when older politicians remind us about our tribal affiliations. It's very sad seeing the 'G-mail generation' getting tribal on social media. I really miss my younger years when this was not a factor.
We have sank so low such that to some, Lupita Nyong'o is not Kenyan, but lakeside talent, hence Central Kenya should not claim her as theirs.
The same goes to those in Western Kenya to whom Edi Gathegi is Kikuyu and not one of their own. Did you watch Gathegi in the Black List — where he played Matias Solomon?
When we were young, we hopped negative ethnicity would end with future generations. After all, most of us rarely went shagz.
But unfortunately, the youth have accepted the politicians to manipulate them back to the tribal thing.
Ethnicity is not bad per se. It helps us to know our roots, where we came from and to appreciate our traditions while tolerating others.
But it should never be used to divide us. The politicians use this one aspect to get their votes and later on abandon us.
If you check carefully, when they mingle and do business, they don't care about tribe. I have always told the youth that in this world, there are only two tribes; the haves and the have-nots - the ruling class and the subjects.
Just look at these two tribes that are always enemies during election times, yet they have the most intermarriages.
They do family business among themselves. So, I kindly request the young generation to wake up and not accept to be manipulated into tribal cocoons by these old politicians.
Keep it real and know that out here it is you against the world.
[email protected]
@AineaOjiambo
Related Topics