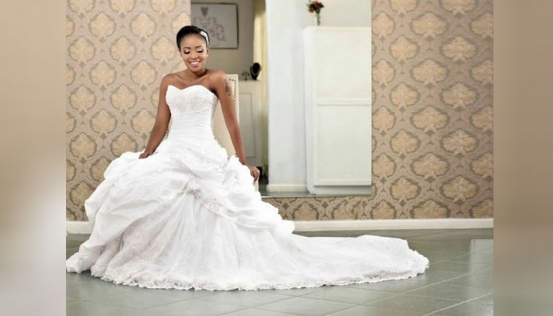 5 years ago gospel artiste Kambua said 'I Do' to pastor and businessman Jackson Mathu at a garden wedding held at the Windsor Golf Hotel and Country Club, overlooking the artificial lake at the golf course.
A colourful reception followed thereafter at Ridgeways Garden with fellow gospel artistes like Esther Wahome and Mercy Masika in attendance.
All the while, the beautiful bride was in a Haute Couture Imperial wedding gown graciously going through her day like the princess she is. The only downside to her wedding was 'how quickly the day goes by! Just like that! But, looking back and seeing that it was all I'd hoped it would be makes it all worthwhile.'
Her search for the perfect dress took her and her maid of honour around the world to a little antique store in St. Louis, MO. "You know how "they" say, you just know? I just knew when I saw it, that this #maggiesottero Haute Couture Imperial wedding gown was the perfect one for me," she says.
"I wanted #lace because of how intricately complex it is. I wanted rhinestones, and flowers...I wanted a ball gown. I got it all. I truly felt like royalty."
The gown has detailed bead work on the front and back. Delicate lace sweeps the bottom of the gown and hand sewn flowers elegantly drape the gown. In short, it is a work of art.
Had you asked her then if you could have her dress then, she would have said no. And many brides did ask. "After the wedding, many brides asked me if I could rent it out. It was a no brainer- NO! I was attached! Lol."
But now, Kambua is ready to let go, so she could give other brides a chance at the 'prefect dress' for their wedding.
"This, as you well know, is my #yearofyes and so when @dream_gown_rentals asked, I said, "YES" to letting other brides experience the magic of this dress. Call them ????0720-499-719 to book an appointment to try it on."
Related Topics