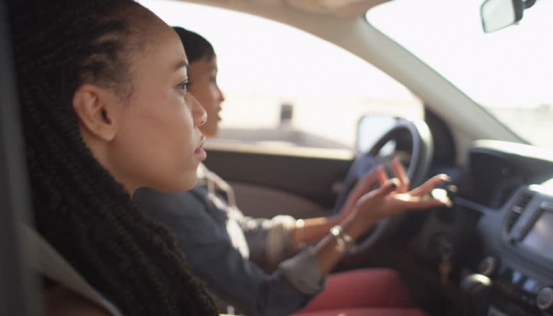 Driving in the streets of Nairobi is hard enough as it is. You have to deal with rogue matatu drivers who drive recklessly and unexpectedly pull over in the middle of the freakin road to pick and drop passengers.
Then there are the annoying boda boda drivers who, while weaving through traffic, come hurtling down at you from the side, or swerve into your lane with no warning whatsoever. Then you have the jaywalkers who refuse to get out of the road. It is a lot to deal with.
But you know you're in for a whole new level of struggle when you're a woman behind the wheel. It doesn't matter whether you are a good driver or not. Here are a few struggles women drivers in Nairobi go through:
Intimidation by male drivers
I can't even begin to count the number of times I have been subjected to beeps and honks for no reason at all. I can see them contorting their faces in frustration as soon as they see it is a woman behind the wheel (it doesn't help that I look 16!).
As soon as I get on the road, I brace myself for aggressive overtaking, hooting and sometimes rude hand gestures. Even if you are driving at top speed, some chauvinistic idiot with road rage will do everything possible to accelerate and overtake you. If you overtake him, he will make it his life's mission to get in front of you.
Men ogling at you in traffic
I don't know what it is about a car that makes these perverts feel camouflaged. I am pretty certain they would not do or say these things if they were standing next to you. It is very uncomfortable when a man continuously stares at you.
It is a nuisance and unfortunately, there is nothing you can do about it other than pray that traffic starts to move so you can get away from the creeps. Some even adjust their mirrors if they are in front of you just so they can stare at you properly. It is horrible!
Everyone assumes you can't park
Parking is hard for everybody. I know quite a few blokes out there who can't park to save their lives. But pretty much every man out there believes that there is absolutely no woman who can steer a car backwards into its proper place.
Every time I am reverse-parking, 10 people would appear out of the blues to guide me. If I park correctly, I get this feeling that they are just holding back a thunderous applause and are at awe at how I managed to do it in one go. It is annoying.
Driving in high heels
I love my stilettos, but boy is it a pain to drive in them! When I get all dressed up to attend an occasion or a night-out with the girls, I find myself driving in super high heels. Sometimes I am just too lazy or impatient to go back in the house and slip on a pair of flats and change later.
@roxannekenya
Related Topics