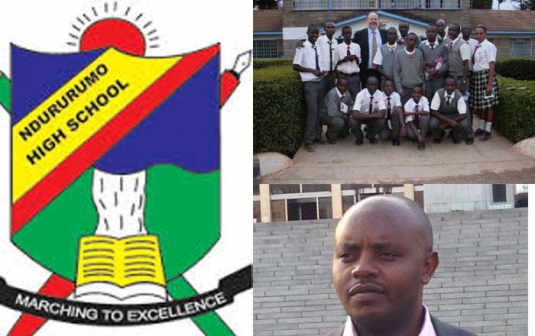 Ndururumo High school in Manguo sub location in Nyahururu, was started for the Boer community that had settled in the area in 1951. The Dutch school was then called the Van Riebeck School famed for 'hard core' rugby.
The school was managed by the Dutch Reformed Church who followed South Africa's Transvaal Education curriculum.
After all, it had been named after Jan Van Riebeck, Dutch Afrikaner, who founded South Africa's Cape Town in the 17th century.
During the Mau Mau War for Kenya's independence, the Boer (kaburu) farmers relocated to other countries and the school was bought by a group of protestant churches and renamed Thompson Falls High School in 1963 with African students allowed the following year when retired President Moi was chairman of the board of governors.
It was the first co-educational school in Kenya besides Nakuru High School. The named changed to Ndururumo High in 1975.
One of the most interesting aspects of Ndururumo is that it offered free laundry services to students in the late 90's and early 2000s. Students were simply required to write their admission numbers on the clothes before taking them to the laundry room.
Notable alumni include Laikipia County Assembly Speaker, Patrick Mariru who was among the best KCSE student in the then Rift Valley.
Others are Dr Macharia Jackson, a superintendent at JM Kariuki Memorial Hospital in Ol'Kalou sub-county, and Dr Wachira Murage, an obstetrician gynecologist at Kenyatta National Hospital and famous kikuyu gospel artist ND Githuka of uhe kahii (give me a son) and mawiko (deeds) hit songs.
Related Topics