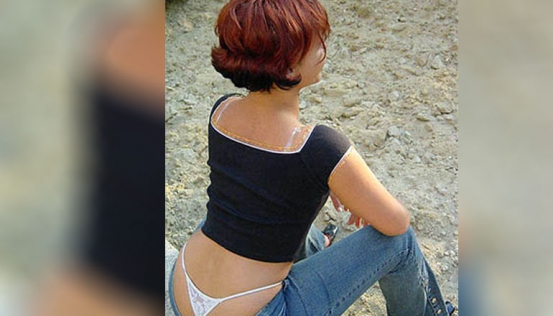 Gone are the days when exposed butts were considered a wardrobe malfunction. Nowadays, it is a fashion statement. Back in my campus years, I was constantly presented with the various stages of dress (and undress) of tens of ladies and I reckoned I had seen it all.
Little did I know that there would come a day when women would willfully sashay around with about two to three inches of butt cracks hanging out. This absurd fad is topped by wearing thongs or G-strings, so that the T-back of the underwear shows beneath the jeans. Welcome to the golden age of exhibitionism.
I was shocked when I stumbled upon a woman on the streets of Nairobi the other day flaunting her butt cleavage. She was blessed with a wide derrière and was dressed in low-hip riding jeans and a crop top with her butt crack exposed. I could tell by the airs she was putting on that it was not a wardrobe malfunction.
She was well aware of the fact that her butt crack was in full display for the entire world to see. She also had the whole underwear-showing thing down to a T. I was horrified. I think it's sick that women can comfortably wear pants that show their underwear and asscrack!
I don't throw around words like trashy and slutty around often, but let me just say that no matter how nice you think your tush is, butt cleavage is gross, inappropriate and a little slutty. It is absolutely disgusting and not at all fashionable.
In fact, I will go out on a limb here and say that butt cleavage is one of fashion history's most heinous mistake. There is nothing sexy about a butt crack. It is very tacky for a woman to expose herself like that. This is one fashion faux pas that we should not just let slide.
I understand that the need for attention may be taking on epidemic proportions, but we have to draw a line somewhere. We all want to be noticed and have our bodies admired but believe me, butt cleavage is not the way to go.
Do you really want strangers to be ogling at your exposed butt crack as you walk down the street? Why can't we just save the sexy underwear/ butt cleavage showcasing antics for the bedroom? Walking around in public with your butt crack exposed to varying degrees will only get you the stink eye and a bad reputation.
Butt cleavage is pretty bad fashion sense. I am all for displaying our God-given assets, but let us just stick to the nice classic boob cleavage and plunging necklines. The butt cleavage craze needs to die. Let us keep our butts safely tucked away. There is a fine line between fashion statement and blatant exhibitionism.
@roxannekenya
Related Topics