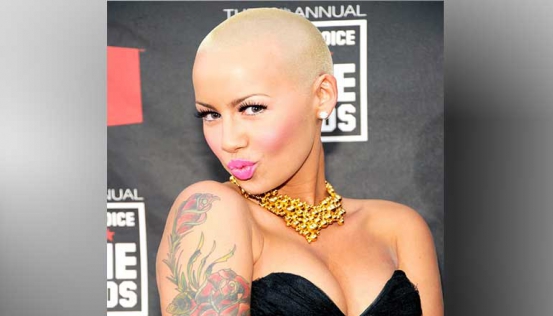 Amber Rose has admitted she has no idea how many men she has slept with.
The 32-year-old model - who previously dated Kanye West and was married to Wiz Khalifa - insists she has no interest in keeping count of her number of sexual partners.
Speaking on The Amber Rose Show, she explained: "I'm 32-years-old – I've been around the block a few times. I'm not going to sit there and count."
Amber also claimed that men are praised for having mistresses while women are slammed for cheating.
She said: "We [women] are smart enough to not let the men find out, I feel like guys get so sloppy. Women have an intuition, if he lies we know… Sometimes we're in denial, like, 'He wouldn't do that to me,' but at the same time we like, 'B**ch, I know he did that.'"
The star - who has three-year-old Sebastian with her former husband Wiz - says she is single because most guys are "scared" of her.
She said: "I can't get a date for nothing, all these guys are so scared of me, it's ridiculous. My team says I'm intimidating which makes it very difficult. I've always just been Amber from Philly. I pride myself on staying that person, I've never let the money and the fame change me.
"I never wanted fame. It just happened so I decided to become an entrepreneur; to dip and dab my hands in everything to figure out what I liked along the way because I knew I couldn't go back and be a regular girl in Philly, it was too late."
And Amber went on to insist she doesn't need a man as "anything a man can get for her, she can get for herself".
She added: "I'm not a convenient girl. I can't just fly out whenever they want me to fly out. I can't just go on vacation whenever they want to go. I have employees and a son. I have a lot on my plate. They are welcome to come along for the ride but I can't just come on every call.
"They have to come along for my ride, I can't come along for theirs. I really don't need a man for anything. I have a house, my own cars and own money. I think some men want a girl they can semi take care of where the girl has her own little job. It's not like that for me. Anything a man can get me, I can get for myself."
Related Topics