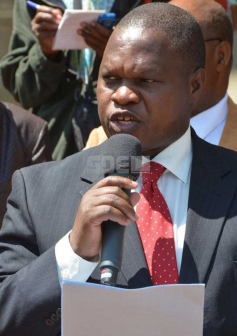 Gusii elders have warned those spreading nude photos of their leaders, saying it is against the Abagusii traditions to expose one's nakedness.
This comes after a group of people were caught spreading nude photos purported to be those of Kisii Deputy Governor Joash Maangi.
"We would like to advise our youth to avoid being misused by politicians. Let them apologise to Maangi to avoid curses. It is immoral to humiliate an elected leader," said Tamaro Ombasa, one of the elders.
Maangi said that he won't be distracted by people who want to defame him, saying his focus remains on serving Kisii County residents.
Other leaders, including Senator Chris Obure, Governor James Ongwae and Woman Representative Sally Otara, also condemned the sharing of the photos as demeaning.
They called for the respect of all leaders, saying it is unacceptable for people to use politics to attack others.
"The photographs were aimed at demeaning the deputy governor. Those behind the scheme must be condemned in the strongest terms possible," said the governor.
He urged his deputy to take legal action against those behind the scheme.
A Kisii Member of the County Assembly and two other people have already been arraigned in court for publishing defamatory matter against Maangi.
The accused; Tendere MCA Shem Ondara, Samson Nyarechi and Joseph Nyanga'u, all pleaded not guilty to the charges of publishing defamatory content against section 194 and section 36 of the penal code.
They appeared in the Ogembo court on May 11 2016 before resident magistrate WK Chepseba and were released on Sh10,000 cash bail each. They will appear in court for the hearing of the case on July 26.
Related Topics