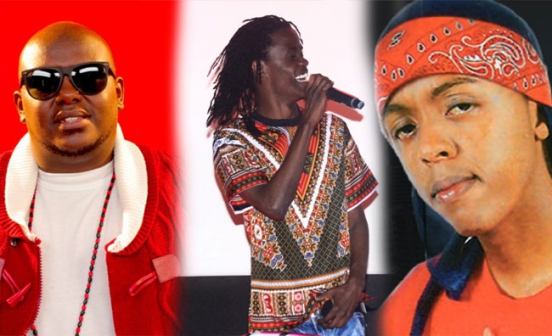 Kenyan rappers have come a long way since the days of Kalamashaka. The trio are considered the godfathers of rap music in Kenya, setting the foundation on which other rappers have built their career.
In the process, a Kenyan hip-hop culture and community has emerged; cypher battles, dressing, art and spoken word. In the search for Kenya's finest rappers, we talked to a sample group of producers, fans and the current rappers on who they think make it on the list. The results are in. In our part one, We present to you the some of the best Kenyan rappers of all time:
E- Sir
Like Julius Caesar he came saw and conquered. Even in death he still remains a legend. Many believe that if he were to come back to life today – many of the so called local rappers would be categorized as wanabees.
Chris Kantai
Nearly a decade ago rapper Chris Kantai was the toast of the industry with his deep well intoned lyrics. His rap was free flowing and rich in American tweng making many girls drool. And between 2005 and 2006, Kantai was on top of his game calling shots as shows flowed his way.
His hit single, Kantai was on every fan's lips and he lived large. Born in Kenya and raised in the United States, Kantai's rap-style and flow can easily pass as Warren-G or Kurupt. As far as Kenya's music scene goes, few come close in terms of lyrical prowess and mastery of the hiphop genre.
Some of his hits Kantadda, Lifestyle and Issues set him apart in the crowded hiphop scene in period 2004-2006 when he returned to Kenya from US. Besides his latest collabo with Khaligraph Jones is a force to reckon with.
Johny Vigeti of Kalamashaka
If you don't know Vigeti, you are not familiar with the roots of Kenya's hip hop. Vigeti was a member of Kalamashaka. Their hit, Fanya Mambo, was the first song to be aired on Channel O and that was way back in the late 90s. He remains a favorite among the trio owing to his unique lyrical prowess and style that left many fans yearning for more.
Kitu Sure of Mashifta
Straight from the land where the sewer spilt from its channels until he met the pioneers Kalamashaka and became the poet one of a force to reckon - thanks to God.
The poet formerly known as K-Swiss is a veteran lyricist, hip-hop artist and poet. Originally rapping under a two-man outfit Mashifta formed in the early 2000s.
Gwiji and Kitu Sewer released a number of hit tracks including Pesa Pombe Siasa na Wanawake, System ya Majambazi, the latter being an underground hit. Their first Album was titled "Mashifta classics" released in 2004. Unfortunately this was their only album. The two artists went solo in 2005.
Better known as The Godfather of Kenyan Hip Hop, he's a member of the famous Hip Hop group Mashifta of Ukoo Flani. After his long haitas, he returns to the game on a different genre never been heard before. Lacing his lyrical prowess on a Dub-Hop beat that never ceases to capture the listener's ear, where he teams up with DJ/Producer Saint Evo aka Evo & upcoming lyricist Kali D on his new track titled, Ring Alarm in 2015.
Abbas Kubaff – Ba Mkubwa
Once part of K-south flavour Abass and has been the most consistent rapper. His longevity, wordplay, flow and storytelling talent earns him the title one of the 'Best rappers in Kenya'. There is no denying that every collabo he features in turns out to be a huge hit- owing to his midas touch.
Nyashinski
As one of the lyrically gifted trio of Kleptomaniacs, Nyashinski was on top of the game. That is until he left for the US and we haven't heard much from him. Nyashinski, a Nairobi School alumni, was known for rhymes and punchlines in particular in their M4E album that featured songs like Tuendelee a reply to a dis track by then underground artists Bamboo and Chiwawa just to name a few. Others are Swing, Bad Boy featuring Amani et al.
Bobby Mapesa
Some say he is one the best local rappers Kenya has ever had while others credit him for having revolutionized local rap at a time when it was hardly appreciated. Mapesa is certainly no stranger to local music fans having made his mark felt in the music industry a few years ago.
His unique lyrics and distinct flow was evident in his several hit singles such as 'Naskia Utam', 'Kamoja Tu' 'Chali wa Nai' and Mtoto Mzuri remix done in collaboration with Genge's godfather Nonini. So popular was Mtoto Mzuri Remix that it played around the clock in most matatus within and outside Nairobi.
Not only did it elevate Bobby Mapesa's status into one of Kenya's best lyricist cum rapper but it also earned him huge mileage in terms of shows and unending media interviews.
Juliani
Juliani hit the hip-hop scene in 2008 as a gospel rapper with his Mtaa Mentality album. Since then, he has dropped three more albums and won several local and international awards. What sets Juliani apart is his conscious lyrics which usually delve into social and political issues, blending unique flow with word play. Growing up in Dandora and Civoh, Juliani's earlier contemporaries included hip-hop group Ukoo Fulani Mau Mau.
He was the first artiste to launch an album on the streets of Nairobi, open to the public. He has received several corporate and NGO endorsements, making him one of the few rappers profiting from the trade. Juliani is part of the creative centre, Power254.
Nonini, Jua Cali
The two ruled the local and regional airwaves with many of their tracks besides winning several awards. While Nonini's We Kamu, Manzi Wa Nairobi, Keroro and Furahiday became a local national anthem, Jua Cali's Kiasi, Ngeli Ya Genge, Kwaheri just to name a few won him several awards and huge contracts with international bodies. To date however, they have seemingly disappeared into a musical oblivion never to be heard again. Me thinks … they got too much money.
Bamboo
The elder brother to Victoria Kimani and rapper Kimya was on top of the game since the days of K-South flavor together with Abbas, albeit on and off. He did a collabo with Akon. Bamboo's laid back style, flow and storytelling skills ranked him among the best.
Related Topics