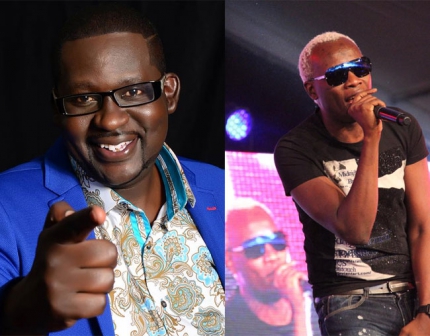 Everyone has a humble beginning and indeed our celebs are no exception. CAROLINE NYANGA spoke to a section of our celebrities brings you their real life stories.
A story is told of a young aspiring musician who camped outside a radio station for days on end in a bid to get his CD played.
Despite the tight security and frustrations he never gave up his mission and after a period of one week, his CD was finally accepted. The moment it was played on radio- it became an instant hit catapulting him to stardom.
From then on there was no looking back. The scenario is no different within our celebrity circles- some of whom are known to have arisen from humble beginnings. Although some of these stories may sound dramatic — they are real — as told from the horses' mouth.
Betty Bayo:
She was once house help within Kiambu town for two years. The fact that her parents were unable to cater for her school fees as a Form Two student forced her to do menial jobs in order to survive and also to save money to go back to school.
"My first employer who I served for a year (2006) paid me Sh70 per day for all the house chores. I felt this was little and decided to go mobile — still as a house help where I would be hired by anybody in need of my services for Sh100 per day."
But despite this she did her work diligently and saved all she could make which she used to pay her fees. "Mine was a case of vision combined with hard work and never giving up easily. I sought God's guidance and protection, which enabled me overcome all the obstacles that stood my way."
Despite this hard work, patience and determination have seen her rise from the trenches to a respected gospel artiste.
Eko Dydda – garbage collector
Having lived in the Nairobi's Mathare ghettos, Eko Dydda has crawled through sludgy pipes, but came out smelling like roses. " It was hard but there was little I could do about it. After all, I hailed from a humble background; getting enough food and good education was not guaranteed."
Upon completing school, he did menial jobs just to make ends meet. They include working as a garbage collector for two years (2006- 2007) at Mathare North where he earned Sh30 per week. He also sold chapati and madondo near Mathare Social Hall for a while.
Churchill- bottle cleaner
As one of the top comedians in the country and host of Churchill Live, Churchill has come a long way from his industrial area pay check.
A leading radio presenter cum stand up comedian missed out on a career in football and took up studying the Bible at the World of Life College in Kabete.
At the time he lived in room of Sh500 in which he shared with five other people. Every morning he would head for Nairobi's Industrial area to clean bottles and lift timber for Sh115 a day.
Then one day, he attended an audition for play after a lady he refers to as Christine asked him to — he qualified and earned Sh300 per show. With time he had a stint at Citizen Radio where he featured as the perennially complaining Navdi Solanki and became an instant hit and onto Classic where he palyed Mwalimu King'ang'i.
He was also part of the Public Noise Makers featuring Mshamba. With this he found himself in NTV's In tru kalas. Today he is a producer with Heartstrings Kenya and author with the play This is Kenya.
Daddy Owen – a thug
Indeed today's Daddy Owen is a far cry from the Daddy Owen who led an irresponsible life operating as a common thug (petty thief) within Nairobi's CBD and Umoja area before getting saved.
"At the time my family lived in Eastland's sprawling Umoja estate. I was among a gang of five known to terrorise residents despite my parent's advice to reform. But, I needed money to use during my countless outings being a reggae fanatic."
Even as his gang members ended up being killed one by one, he was determined to continue with his carefree lifestyle. He joined another gang.
But then like the saying goes; a thief has only 40 days to live. His nearly ended in late 2001.
Along Church House building near the Bomb blast site in Nairobi, Owen almost lost his life upon being lynched by a huge crowd when his attempt to pickpocket a passer by was thwarted.
"It all happened in a split second. All I remember was lying down surrounded by a huge crowd who beat me up mercilessly. One poked my eyes using a sharp instrument. Meanwhile, I could here the rest urging someone to bring a car tyre to burn me alive."
At that moment, Owen lost hope of living.
"Those were the longest minutes of my life," he says.
Today however, the born again Christian dubbed the top gospel musician has achieved immense fame as far as music goes besides having won several awards locally and internationally.
Related Topics