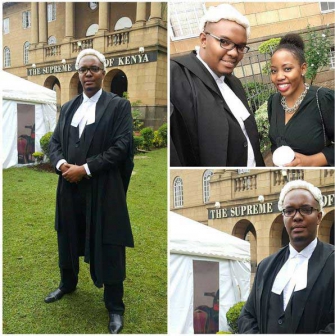 By Sheila Kimani (@sheilakimm)
The next time you spot DJ Stretch Kenya deejaying at a club, be careful how you make those requests because, not only will you be dealing with a deejay, but also an MC, a photographer, a presenter and recently an advocate of the High Court.
As it turns out, the deejay was among the lawyers who were recently admitted to the bar, a fete he greatly celebrates since it marked great moves in his new year,
"From lawyer to Advocate of the High Court of Kenya!! #AdmissionToTheBar. 2016 has started in a great way and thank God for this far he has brought me. Huge thanks to all who have supported me!" he said.
And for those who thought he would be quitting his showbiz career to fully transition into law, are in for a surprise. Stretch says that he is ready to become a bigger DJ brand and represent more clients.
Congratulations to him and the many others who got admitted to the bar.
Related Topics