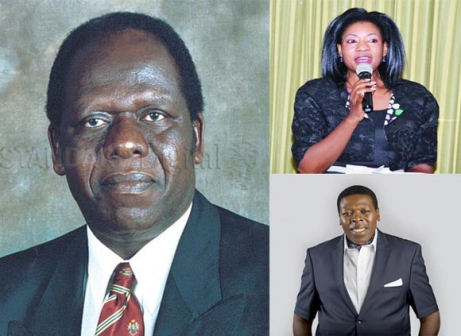 The Wamalwas reignited long-held African traditions regarding the dead last year, when some members, including his children Chichi and Jabali Wamalwa, travelled to London to 'fetch the soul' of the late one-time Kenya vice president, Michael Kijana Wamalwa, who died at the Royal Free Hospital in Hampstead, UK, in 2003.
'Fetching the soul' was part of the khulotia Bukusu cultural practice, in which a ram's blood is poured at the site of death to ensure the spirit of the late can be at peace. A stone at Hamptead was taken and placed at Kijana's grave in Milimani, Kitale, in preparing for the 12th anniversary of his death in August 2015.
But the political pedigree of the Wamalwas stretch back to its patriarch, Senator William Wamalwa, a political bigshot in pre-and post-colonial Kenya before his death in 1976.
Michael Kijana Wamalwa: Had flamboyance, charisma and verbal pyrotechnics that completed his Anglophile leanings, punctuated by Savile Row suits. The alumnus of Cambridge University and London School of Economics was a lawyer whose political ascent was marked by a presidential candidacy in 1997. But the Shakespeare-quoting lover of classical music and Tom & Jerry cartoons was later to become Saboti MP and Kenya's eighth vice president in 2002.
His stepbrothers, Steven Barasa and Robert Wamalwa, had long-running political and family feuds with Kijana, but never captured the Saboti seat despite their spirited parliamentary ambitions.
Yvonne Wamalwa: The vegetarian was married in a society wedding (complete with vintage cars and morning suits, six months before his death at 58) which got Kenyans talking in 2003.
The alumnus of Cardinal Otunga Girls High School and Murdoch University (Terrorism and International Security) is a one-time Deputy Permanent Representative of Kenya to Habitat, Deputy High Commissioner to Australia and Deputy Director, Parliamentary and County Government Directorate.
Four of Wamalwa's children - Jabali, Muthoni, William Wamalwa and William Wamalwa Jr - at some point sought legal redress over their father's estate against their stepmother, Yvonne.
Derrick Mboya: Yvonne's eldest son is a double major in software engineering and business informatics, University of Canberra, Australia.
Eugene Wamalwa: Younger brother of Kijana and former Minister for Justice and Saboti MP is currently the Cabinet Secretary for Water and Irrigation. The alumnus of University of Nairobi is a senior partner at Wamalwa & Company Advocates and one-time director of Kenya Seed Company.
Gloria Wamalwa: Sister of Eugene, Situma and Cassius Wamalwa, runs the upscale Hair Nest in Nairobi.
Related Topics