Bill Clinton was once forced to say he 'didn't inhale' while smoking cannabis but now it's apparently better PR for an American President to insist he was drinking on the job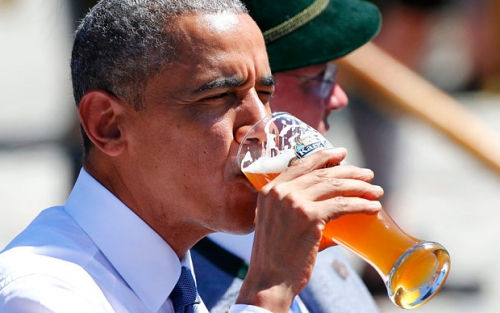 Politicians are not normally known for boasting of drinking while on the job - especially Presidents of the United States.
But on Monday The White House was forced to insist Barack Obama DID enjoy a beer, amid claims that he had been given a non-alcoholic one instead.
The world's most powerful man was pictured on the opening morning of the G7 summit in Bavaria downing a large glass of beer with Angela Merkel.
It was part of a traditional Bavarian breakfast in which sausages are served with beer before midday.
But there were reports on the day that Mr Obama may have been served non-alcoholic beer to keep his head clear for the two-days of talks with fellow world leaders.
Local mayor Thomas Schwarzenberger said the beer Obama and those accompanying him were served actually contained no alcohol.
But the claim - which was quickly dubbed "Watery-beer-Gate" - was hurriedly denied by White House staff amid fears it would damage the President's image back home.
White House press secretary Josh Earnest said he was unsure exactly what kind of beer the President had enjoyed but Mr Earnest added: "He did not order a non-alcoholic beer. Even after an overnight flight on a Sunday morning".
The brewer of the beer, Bavarian firm Karg, also came to the President's rescue.
Karg's Victoria Schubert said the President and Ms Merkel had enjoyed the real thing.
"They were certainly not drinking alcohol-free beer. It was 5% proof, with an original gravity of 11% and like all German beer it was brewed according to 500-year-old purity laws," she said.
Karg has produced a special wheat beer "Summit Weissbier" in honour of the G7 meeting at Elmau Schloss in Bavaria.
US secret service agents were reported to have tasted the beer and the wurst - sausages - before they were served to the President.
The sausages were also put through an x-ray as an additional security measure.
Related Topics