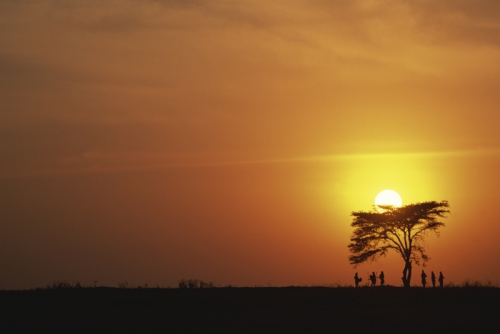 I was in Juja recently, and being a meat wrapper associated with this auspicious publication, my eyes and ears were primed for the faintest whiff of gossip.
But what I noticed was that the men operating boda bodas were chatting in Ekigusii and Luhya (no self-respecting Kikuyu youth carries fat people on a bicycle for cash!).
Now, Juja might be cosmopolitan, but it lies within the heartland of Kiambu County, home of the Agikuyu.
So, I did a quick mental calculation and reached the conclusion that much as those sinewy boda boda men have wives back home scratching the land for sustenance, they most likely have Kikuyu girlfriends in Juja.
The meaning of this is that when their knees give in and they return to whichever village they came from, they will leave behind offspring called Wanjohi, but who are in essence half this or half that. If the tu-Wanjohis inherit their mother's nose for business and end up in Mandera, you will have a cocktail of national proportions.
A couple of years ago, when I could still dance, I turned up for Mulembe Night at the Carnivore. But when we were queuing for tickets, one wag mused that within the throng of revellers, a night runner or two must be gathered.
"There is absolutely no way," he cracked, "That we can have such a multitude of Luhyas without a single night runner being among them."
A lanky, light-skinned guy on an adjacent queue waited till the laughter had died down and said that was the least of his worries.
"My friends and I are Kikuyu. Our women are proving to be an 'armful,' so we have come here to see if your 'cooks and watchmen' will take better care of us and our property," he quipped.
The laughter that ensued was more raucous.
What those Kikuyu boys did not know, however, is that hundreds of their sisters who have been 'put in the box' were humming and gyrating their hips to kanungo eteko – either as wives or oily mistress – in some Luo pub at that very moment.
I have said this before.
There is no Luhya or Luo man who will let a 'yellow-yellow' Kikuyu woman pass by just like that.
His blood will boil and he will unfurl his tongue to unleash killer lyrics.
And there is no Kikuyu woman who has not been made weak in the knees by the charms of the dark men from the lakeside.
Of course, it is no secret that when a Kikuyu man meets a woman from western Kenya, and she cooks for him those things that Luo, Luhya and Kalenjin women cook for men, he is finished.
So beneath the infantile Cord and Jubilee politics, there is a great deal of genetic re-engineering going on beneath the blankets, with kids who don't know who they are, and don't care, getting born at Pumwani daily.
Fifty years from now, so much cross pollination will have gone on that it will be virtually impossible to name a Luo or Kikuyu – unless you are a politician pursuing idiotic 'selfish interests.'
Related Topics