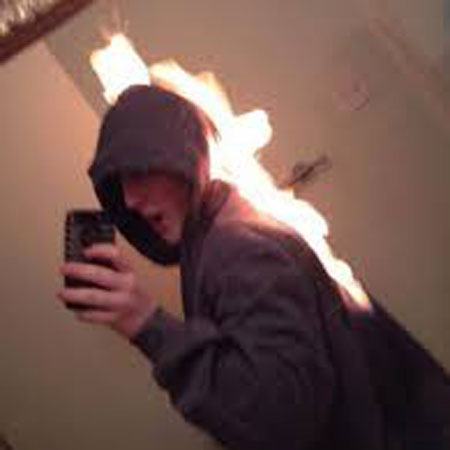 The new trend of setting yourself on fire [Photo:Getty]
A disturbing new internet challenge where participants set fire to themselves on camera for online kudos has gone viral.
The Fire Challenge has seen an alarming rise in popularity in recent weeks, as videos of people dousing themselves in flammable liquid and setting it alight has gone viral on sites such as Facebook and YouTube.
The fad, which follows in the footsteps of notorious crazes Nekominate and the Cinnamon Challenge, has already been blamed for a number of injuries in the US.
In one incident, a 15-year-old from Kentucky suffered second-degree burns after covering his torso in flames.
But despite the obvious dangers, its increasing popularity has outraged Twitter users.
One user tweeted: "Sad to see people doing stupid things like the fire challenge. Really? It's cool to light yourself on fire?"
Painful: Fire brigade chiefs warn trend followers they could scar themselves for life
Another posted: "Somebody gonna die from all these crazy fire and pass out challenges. Lost generation."
While one claimed: "Our generation is getting more stupid by the minute. Fire challenge? Y'all kids are stupid as hell."
And it is feared the trend could become a hit with UK teenagers.
A London Fire Brigade spokesperson said: "We've heard of some silly and reckless acts involving fire but setting fire to yourself for a dare is beyond stupid.
"We sadly see the devastating burns that fire can inflict on people and we would ask everyone to ignore this craze completely.
"If your body or a piece of clothing is on fire make sure you stop, drop and roll immediately and if you need us dial 999."
Earlier this year the craze Punch 4 Punch went viral after participants hit each other until they gave in.
Related Topics